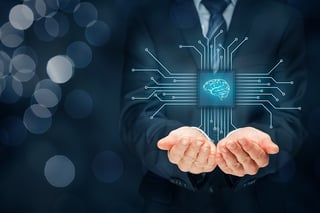 These days, IT leaders are typically managing and securing their enterprise's IT estate that is vast in size and pumping with computing power at the outer edges of the network. On top of that, employees are now dispersed across an ever-expanding remote workspace designed to replicate the primary office environment.
As a result of this proliferation of connected devices in your network, exploitable attack points and avenues are created. This opens the door for countless threat actors to pounce, which makes it nearly impossible for a traditional security system that relies on human intervention to do its job and protect your network. Undoubtedly, IT leaders everywhere are seeing that security and management duties are presenting huge challenges for today's IT teams that currently work alone.
The Next Generational Power: Deep Learning
It's no longer about IT boots on the ground to support your organization's network management. Nowadays, IT support teams need to rely on Artificial Intelligence (AI) to drive their enterprise's IT efforts. AI empowers software to perform a task that is on par with a human expert. Still, AI by itself is not enough. It must be paired with Machine Learning (ML), which allows systems to utilize powerful algorithms that leverage AI-driven network management systems to learn on their own without with being explicitly programmed to do so.
But even ML has its limitations when it comes to the expansive and complex enterprises of today. Deep Learning (DL) is the next evolutionary step. It applies to large data sets to draw information from countless data points that are strung across today's immense hybrid networks. Deep Learning then parses that collected data much like the human brain does by categorizing it, learning from it, and acting upon it. The idea behind DL is simple: The more quality information you have, the better your decision making will be.
Now, imagine having the ability to analyze information that is delivered from each of your IoT devices and distributed edge devices. With boundless access to information relating to everything in your network, AI can do its job, but It's not just about capacity – it's about speed as well. AI-driven network systems can explore terabytes of data in just minutes, informing IT departments of abnormalities and potentially disruptive events or cyber threats long before they are humanly detected.
Envision Autonomous Network Management
Juniper's Mist cloud services suite includes Wired Assurance, Wi-Fi Assurance, and WAN Assurance to automate your IT operations for desired service levels and to ensure the continuity of workloads and network user experiences. Similar to how autonomous vehicle technology minimizes the dead time of actual driving, companies like Juniper are designing these AI-enabled solutions to create a self-driving experience for multiple aspects of the network. Many of the usual routines and tasks performed by network management administrators can be compared to driving on the interstate – there can be long periods of dead time and monotony. With Juniper, AI can take over these routine tasks and perform them just as well. Just as an autonomous vehicle ensures that its passengers arrive safely to their destination, AI and DL-driven tools ensure that network connected users have an enjoyable and efficient experience, too.
Fix A Problem Just Once
How many times have you rebooted a device to temporarily fix a problem? Network management support personnel often solve problems temporarily because they lack the information needed to properly determine the root cause of an issue. Conversely, AI uses data mining techniques to fully analyze problems by correlating events and discovering underlying patterns to determine the true root cause of a problem. Juniper refers to this as client-to-cloud root cause analysis. With root cause analysis, you can fix a problem once and for all. In fact, Juniper's systems will learn from this analysis and self-correct similar events in the future, saving additional time and money for your team.
The Smart SD-WAN
One solution that Juniper is utilizing to gain control of today's vast network architectures is through their automated SD-WAN solutions. Their Mist WAN Assurance service provides your IT team with deep visibility into the workloads that cross throughout your WAN's arteries and it also offers end-to-end analysis of all traffic types. In short, Mist WAN Assurance offers:
Visibility into WAN user experiences with application-based context

End-to-end user impact analyses based on WLAN, LAN, and WAN telemetry data

Automated identification and correction of gateway misconfigurations and faulty interfaces

Health insights into Session Smart Routers, SRX Series Services Gateways, and WAN links

Simplified configuration and deployment of Session Smart Routers
This solution is API driven, which means it can integrate and automate all network and security operations across your sites. And of course, there is Juniper security that includes the delivery of advanced next-generation firewall protection, advanced threat protection, and security intelligence that identifies underlying suspicious behavior patterns.
Simplistic Communication
Juniper breaks down the complexity of your enterprise and makes it manageable. It also retains this newfound simplicity within its communicative interface through the magic of Marvis, the virtual network assistant that utilizes a conversational interface thanks to natural language processing. In the same way you can tell the autonomous car where to go, you can ask Marvis questions about the wired, wireless, or SD-WAN components of your network. Marvis serves as the SDN orchestrator of you network on a 24/7 basis. With Marvis, your network is never left alone or unmanaged.
Conclusion
The growth and evolvement of networks have outpaced the human ability to manage them. Because your network operations are mission critical in today's digital world, IT leaders can't afford to fix a problem once it's happened. You need to anticipate it ahead of time by enabling the ability to self-correct. That is why companies are transforming their enterprises to AI-driven networks in which structured and unstructured data can be used to make network predictions and create tomorrow's self-driving network. This is not science fiction – it is real and available from Juniper.
NEXT STEPS: To better understand why AI should be the next step in your digital transformation journey, download and read our new white paper, "AI-Driven Enterprise: The Next Objective of Your Digital Transformation." It uncovers:
Network operational benefits

Where IT leaders stand after incremental implementation of AIOps

Business areas where AI flourishes