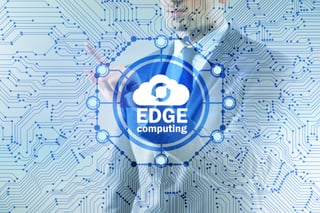 In today's rapidly changing work environments, enterprises can no longer mix and match solutions in an attempt to provide security for on-premises and remote employees. Instead, enterprises need one solution that can provide comprehensive, holistic security from edge-to-cloud.
This is a critical time in cybersecurity. Over the last 18 months we've seen new security challenges arise as a direct result of the pandemic, including:
A rise in shadow IT-related incidents fueled by the exodus to remote working.
Increased cyberattacks, especially ransomware attacks.
Massive growth of the attack surface as enterprises prioritized performance and productivity over security.
Mix in the proliferation of Internet of Things (IoT) technologies and the inherent security challenges associated with cloud computing and it seems impossible that one platform can secure your on-site users, your remote employees, and the multitude of other devices used across your enterprise every single day.
Aruba, a Hewlett Packard Enterprise company, begs to differ. Keep reading to find out how Aruba Networks' built-in security solutions can protect against advanced threats.
1. Aruba For Device Discovery And Profiling
Regardless of the industry, enterprises have huge numbers of devices to manage, whether they're known and are IoT devices, are utilized by employees, or are unknown and belong to vendors, customers, or other visitors. To stay ahead of the security challenge presented by these devices, enterprises need a solution that can bring visibility and control. Through Aruba ClearPass Device Insight, IT can address the risk associated with these devices and block security holes before bad actors find them.
2. Network Access Control For Wired, Wireless, And WAN
With Aruba ClearPass Policy Manager, IT can rest assured that vulnerable data is protected through centralized user and device authentication, role-based access policies, and continuous attack response.
Through this dynamic, real-time device management system, access for authorized users is simplified, improving employee productivity and reducing risk. ClearPass also supports BYOD initiatives, further improving user experience.
3. Unified Threat Management For SD-WAN
Unlike other security solutions, Aruba Central doesn't sacrifice performance for security. Through built in edge- and cloud-based security controls, enterprises can reap the full benefits of their cloud and broadband investments.
Despite the attention devoted to performance, enterprises can be confident that the network is secured from edge-to-cloud. Through firewalls placed at the edge, to dynamic segmentation and advanced threat response, Aruba prevents and contains threats, regardless of how distributed your environment is.
4. Secure Remote Access VPN Solutions
These days, you can never be sure where your employees are going to be working from. While many enterprises made plans to go back to the office this fall, those plans have been put on hold due to the ongoing health crisis. Instead, many users continue to work from home, from the road, from hotels, and basically anywhere with an internet connection.
As a result, enterprises need to be ready with secure remote access virtual private network (VPN) solutions. This same technology can also be applied for micro and macro branch locations, reducing the need for multiple, often incompatible solutions or complicated integration scenarios.
5. Policy Enforcement Firewall
With Aruba Networks, enterprises can take security right to the source of data with a policy enforcement firewall (PEF), which provides automated dynamic segmentation for wireless and wired access security in any Aruba Networks environment.
By placing a firewall at the point of connectivity, Aruba Networks is giving enterprises a simple way to control access to the network without creating additional cost or complexity.
6. Integrated Protection For Aruba WLAN
Last but not least, Aruba's RFProtect software prevents denial-of-service and man-in-the-middle attacks, while also reducing the risk of over-the-air security threats. As a result, enterprises no longer need to install separate RF sensors or security sensors if they're using Aruba wireless LAN.
Securing the future of 'work' looks different than yesterday, but WEI and Aruba can help.
The edge will only grow and become more complex if you don't start taking an active approach to integrating security at the endpoints of your business. If you're interested in any of the security strategies discussed above, WEI can help. Aruba's Edge-to-Cloud Security offers the holistic security and architectural simplicity needed to stay competitive in today's rapidly evolving digital landscape. By taking advantage of Aruba's full portfolio of security solutions and out-of-the-box integrations, enterprises can fully secure their remote, hybrid, or on-premises workforces.
To make the transition easy, talk to WEI. Our team of network security experts know Aruba's portfolio inside and out an have implemented it for customer across several different industries. While the details of each project may be different, the goal is always the same—secure my business and the way people interact with it—at the edge.
NEXT STEPS: Just about every business we talk with has long-term remote workforce initiatives, and security has become a larger focal point of each conversation because devices are no longer protected by the traditional enterprise perimeter. Don't leave security to chance with your remote workforce. See how Aruba is solving the challenge with Aruba Remote Access Points, and find out just how easy Aruba RAPs are to implement and manage in our tech brief below.