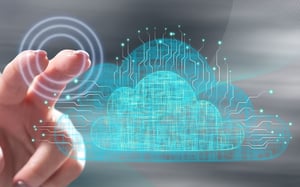 Enterprises in every industry are undergoing digital transformations. As part of that, many are upgrading to modern cloud architectures, which can come with a jump in complexity that IT teams may be unprepared for.
The time spent building DIY cloud environments, largely through manual processes that require highly skilled staff is another drain on IT, creating a significant burden that can reduce overall efficiency. This is especially true for enterprises that are having to do make do with smaller budgets.
For these reasons, cloud solutions that offer a simplified management and operating structure, without sacrificing performance or increasing costs, are exactly what many enterprises need.
Dell Technologies Cloud with VMware offers all this and more.
Simplify Cloud Computing with Dell
When building the cloud platform, Dell Technologies and VMware, which co-engineered it, prioritized flexibility, simplicity and the ability to customize each solution to the exact business needs of the enterprise.
The platform leverages the VMware Cloud Foundation (VCF) on VxRail hyperconverged infrastructure (HCI) to ensure consistency across the network. It also incorporates VMware vSphere, vSAN, and NSX to allow for additional flexibility.
The solution's software-defined data center (SDDC) abstraction is based on VCF, which allows enterprises to move workloads between their private cloud and public clouds supporting VCF.
VMware's Cloud Builder brings automation to the implementation phases of the solution, simplifying both the installation and configuration process.
The Dell Technologies Cloud Difference
Enterprises deploying Dell Technologies Cloud will see benefits from the unified architecture, which eliminates the need for siloed environments. Enterprises will also be able to work with Dell Technologies directly for every step of the implementation process, including purchasing, deployment, and full-stack solution support. Not only does this make the process easy, it also saves time, resources, and reduces startup costs.
The inclusion of VxRail HCI also allows enterprises to increase compute and storage capacity as the need arises by simply adding additional nodes, even nodes of different hardware configurations. This allows for the simple integration of new technology moving forward.
Created as an all-inclusive solution, Dell Technologies Cloud eliminates silos and redundant tools, reducing complexity during implementation, lifecycle management, and scaling.
For IT teams lacking in resources or certain skills, the joint engineering and integration between Dell Technologies and VMware makes processes simple, automating the building and day-to-day operations necessary for private clouds. This also reduces the chance of human error, which is often multiplied by these monotonous, time consuming tasks.
Cloud Builder significantly reduces the burden on IT by deploying pretested cloud environments that are specifically designed to prioritize performance and security.
During the update process, additional automation, in the form of a built in precheck feature in VCF, ensures the environment is good to go and there are no problems which would cause issues during the update. Should there be any errors, the tool displays the issue, as well as specific guidance on how to fix the problem.
Overall, the Dell Technologies Cloud reduces the needs for specialized knowledge or manual processes, instead creating uniform environments quickly and with little effort from IT. Day 0, day 1, and day 2 lifecycle management is simplified and accelerated through automation. Additionally, all steps can be done without cloud, virtualization, or networking experts, freeing up these IT personnel for more complex and critical tasks.
For enterprises in need of a way to streamline cloud infrastructure and reduce the burden on IT, Dell Technologies Cloud may be exactly what you're looking for.
Are You Ready for Cloud Simplicity?
The Dell Technologies Cloud offers enterprises a way to build and operate cloud infrastructures using standardized designs, built with Dell Technologies and VMware best practices in mind. It simplifies operations across all clouds, allowing enterprises to achieve greater flexibility, control, and consistency. These benefits, as well as other aspects of Dell Technologies Cloud, reduce operational and storage costs, while also boosting IT productivity through automation. If you're ready to make the change now, contact WEI to begin building a custom solution for your business.