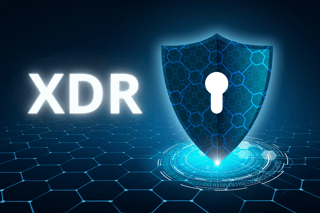 Security concerns are constant for every enterprise. More employees working from home (or anywhere, really) and other factors leads to network complexity and growth in the cost of data breaches. This also impacts how much organizations are expected to spend on cybersecurity prevention. It is anticipated that companies will increase cybersecurity spending by 26% over the next five years. Luckily, there are advanced solutions such as Extended Detection and Response (XDR) that can help automate threat detection and save time and effort on staying cyber secure. In this article, we cover what XDR is and why it should be included in your future cybersecurity goals.
What Is XDR?
XDR is a rising cybersecurity solution that gives companies complete visibility into their entire network. XDR is a term used when you do not have the capabilities to cover a wide range of threat vectors. As an advanced cybersecurity solution, XDR focuses on endpoints and deals with threats directly and efficiently. XDR uses a lot of what makes security and information event management (SIEM) and security orchestration, automation, and response (SOAR) useful and extends each of these functions for a better cybersecurity solution.
Cisco simply explains, "XDR capabilities provide visibility and actionable insights across networks, clouds, endpoints, applications, and workspaces to help Security Operation Center (SOC) teams to hunt, investigate, and remediate threats." Basically, these abilities allow for quicker detection of threats and improved investigation and response times through security analysis.
Why XDR Matters
Since XDR is a newer addition to the security solution market, it has many benefits that other options don't feature. Cyberattacks are becoming more sophisticated, and SEIM and SOAR are not developed for these advanced attacks. Endpoint detection and response (EDR) and Network Detection Response are similar to XDR, however, they cannot respond to sophisticated threats quickly enough compared to XDR. Because of this, every organization should consider XDR. This solution has many benefits such as:
Consolidated threat visibility: XDR delivers visibility through data collection from email, endpoints, servers, and cloud networks.
Easy detections and investigations: XDR helps IT teams focus on high-priority threats. This cybersecurity solution can automatically detect stealthy threats and isolate anomalies that may come across as insignificant.
End-to-end orchestration and response: XDR provides automated alerts and strong response actions for sophisticated cyber threats.
Along with these main benefits, XDR solutions address a growing network's complexity by detecting threats faster for more efficient threat blocking. XDR can automate threat detection and remediation to save IT teams time and effort by automatically discovering attacks while also looking for malicious activity. XDR approaches like Cisco SecureX aim to help companies with organization and control when it comes to cybersecurity.
About Cisco SecureX
Cisco SecureX is a security cloud-native platform that broadly connects Cisco's integrated security portfolio and enterprise infrastructure for a consistent experience. It strengthens security across your network, endpoints, applications, and cloud and enables automation without needing to add new technology to your current security setup.
Cisco SecureX is also an optimal platform for integrating other security solutions. It simplifies the user experience by bringing together key security technologies that are necessary for Secure Access Service Edge (SASE) flexibility and zero trust. This platform combines cloud security from Cisco Umbrella with zero trust capabilities from Cisco Secure Access. Users can incorporate a wide range of other tools with ease into Cisco SecureX. You can benefit from this integrated platform whether you only have one Cisco security product or many. It can serve as the foundation for a SASE architecture and protect your assets by integrating both new and existing technologies into your network.
Many organizations are already enjoying the benefits of XDR with Cisco SecureX. IT teams can focus on improving overall security efficiency and can spend less time working on manual tasks such as correlating alerts. SecureX helps companies detect, investigate, and resolve security events quicker with better insight. This security platform reduces the risk of a data breach by 50% and the cost by 45%.
If you are just starting your journey of applying an XDR approach to your enterprise security or are looking for ways to improve your current XDR platform, SecureX is a strong solution to extend your detection and response.
The WEI security experts have extensive experience with Cisco network and security solutions. Lean on our experience to help you determine how your company can benefit from leveraging Cisco's suite of security solutions and SecureX. Contact us today.
Next Steps: Read our solution brief titled, "The Security Platform Approach Of Cisco SecureX" to learn more about the benefits of operating under a single dashboard. This will enable your security teams to have the necessary security visibility of your network endpoints, cloud, edge, and applications.