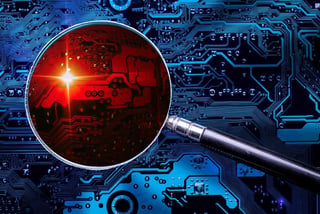 As an IT leader, cybersecurity threats are constantly on your mind. They lurk in dark corners, lay in wait and when a moment of vulnerability presents itself, they strike!
The threat of cyberattacks is constant, pervasive, and exhausting. As cybersecurity technology improves, cybercriminals also grow more advanced, keeping up and sometimes outpacing the enterprise technology you've grown to trust.
So, what can IT security teams do, other than wait, prepare, and fervently hope they'll be able to stop an attack before it does too much damage?
With Cisco SecureX, IT security teams can take the upper hand and strike first.
What Are Cisco SecureX and Threat Hunting?
Cisco SecureX offers a simplified security experience as a cloud-native, built-in platform. As the bridge between the Cisco Secure portfolio and enterprise infrastructure, it allows IT teams to drastically reduce dwell time and automate previously manual tasks.
Beyond just simplifying the existing security ecosystem and providing integrations with third-party solutions, SecureX also offers a unified visibility experience with a customizable dashboard and allows IT to automate routine tasks using prebuilt workflows built to suit common use cases. Enterprises can also create their own workflows with SecureX's no-to-low code, drag-and-drop canvas.
SecureX is also included with every Cisco Secure product and offers an 85% reduction in time to respond to security threats and remediate.
But what if you're ready to take the fight to the security threats? With SecureX Threat Hunting, you can.
Traditional cybersecurity efforts are reactive. IT security waits for malicious activity to begin and then reacts. Threat hunting starts long before the damage occurs.
As an analyst-centric process, it allows IT security teams to find hidden and advanced threats before they cause damage. It's a proactive approach to enterprise security and is empowering IT to take an active role in fighting cyberthreats, instead of just waiting and reacting once the damage begins.
However, Threat Hunting with SecureX doesn't replace traditional efforts, it enhances them. It provides a way for IT security to go on the offensive and augments existing defensive measures.
How Does Threat Hunting With Cisco SecureX Work?
Now that we've explained what threat hunting is, let's get into the nuts and bolts of how Threat Hunting With Cisco SecureX works.
The backbone of threat hunting is utilizing a hypothesis driven methodology. The process can be broken down into a several repeatable steps:
Analysts identify current techniques being used by cybercriminals using incident response observations, reports from security groups, or other research techniques.
Using the knowledge collected in the first step, analysts formulate a plan of action and the scope of the project.
Implement the plan of action.
After the plan is executed and data is collected, analysts perform automated analysis and analytics.
As a final step, analysts adjust or accept the hypothesis and then repeat the process.
While this is a fairly simple set of steps, many enterprises are still facing significant barriers that keep them from adopting threat hunting.
These barriers include:
Limited resources.
An overwhelming number of alerts.
Sourcing and utilizing up-to-date threat intelligence.
A growing attack surface.
A slow implementation process for threat hunting.
Cisco has created Threat Hunting With Cisco SecureX as way for enterprises of any size and budget to apply established, mature threat hunting practices to their IT security infrastructure, without the heavy cost and large time commitment they would face when doing it on their own.
Enterprises that already have threat hunting practices in place can also benefit, as Cisco's methodologies will overlap, compliment, and support existing capabilities.
As a result of implementing the solution, IT organizations instantly improve cybersecurity posture, reduce alert fatigue, and stop cyberattacks in their tracks.
So, are you ready to go Threat Hunting with Cisco SecureX?
As a leader in enterprise security, and with products ranging from email security to next-generation firewalls, Cisco can help any enterprise ensure continued cybersecurity. With Threat Hunting With Cisco SecureX, enterprises can take an active role in warding off threats and protecting confidential corporate data.
Next Steps: Get everyone onboard with enterprise security—especially your executives! Grab a copy of our Security Strategy Checklist by clicking below.