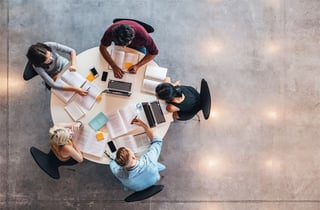 Mobile devices, cloud computing and the Internet of Things (IoT) are changing the way industries, including higher education, conduct business. Two major benefits to mobile-first technology strategy include the ability to provide more flexibility and promote collaboration between individuals – two main points of interest for the millennial generation entering the workforce.
Challenges of Enterprise Mobility
As mobile technology grows, so does the need for organizations to keep up. However, there are certain challenges enterprises face as they adjust to meet the increasing technological demands.
Wireless connectivity. As more enterprises adapt to the mobile-cloud with a Bring Your Own Device (BYOD) policy, wireless service is no longer an optional addition to the wired network. In today's environment, CIOs need to incorporate wireless technology into the design of their infrastructure and treat it as the primary source for conducting business.
Visibility. The number of mobile devices connecting to enterprises is growing at a rapid pace. To keep systems running without disruption, IT teams need visibility into where users are connecting on the network and to predict issues before they arise.
Security. In order to enforce proper security measures on the network and connected mobile devices, IT needs to understand the infrastructure and processes put in place. It must be able to implement the right set of tools to quickly translate complex corporate security policies and stringent compliance requirements without wasting valuable time and resources.
Aruba optimizes for the digital enterprise and provides solutions for these common mobile challenges through enhancing wireless systems, the ability to predict issues and securing the network through policy management implementation.
Higher Education is Getting a Mobility-First Technology Strategy
Today's students are tomorrow's enterprise leaders. How they interact with technology and use it to their benefit now will shape how industries do business in the future. To keep up with the technical needs of students, higher education institutions are investing in ways to connect and engage with them on a mobile level. Here's why:
Students are 49% more involved with courses that involve technology
More than 75% of people enrolled in higher education courses use a mobile device such as a smart phone or tablet to help them learn.
More than 50% feel technology connects them more personally with their peers and staff members.
The average student owns seven tech devices including cell phones, tablets, smart watches and more.
More than half of students connect at least two devices to a network at a time.
Like other organizations, higher education institutions must consider ways to protect their students, staff and information. Aruba has developed a mix of solutions specifically for colleges, universities and other educational establishments.
Aruba Campus Network: To keep up with the device demand, wireless connectivity and security needs, this solution offers:
11 ac wireless access points and multi-gig switches
AppRF technology to control traffic on the network
Predictive insight into network health, RF and performance
Aruba Clearpass Policy Management: To protect the information and devices connected to the network, Clearpass Policy Management allows the educational institute to:
Define users, roles and device access
Work across any multi-vendor solution
Create policies that adapt to BYOD and IoT implementation
An intuitive, self-service onboarding workflow system
Aruba Location-Based Services: This solution helps connect students and staff to one another to promote success and engagement by:
Providing students and visitors turn-by-turn directions using Aruba Beacons
Scale beacon deployments over any Wi-Fi with the Aruba Sensor
Using the Meridian App platform to engage students with location based information
Providing rich SDK options for custom app development
Mobile technology is here to stay and will continue to improve how enterprises conduct business. If you need help putting together a mobile solution for your organization, WEI can design a custom plan to fit your specific requirements.
Next Steps: Learn more by reading our tech brief, "The Challenge of Supporting Today's Mobile Environments in the Enterprise."