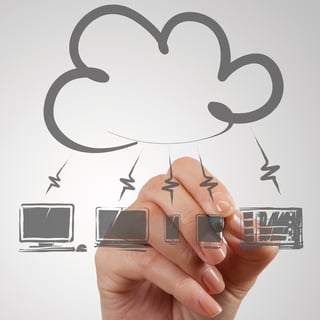 When we talk about cloud computing we are usually referring to the public cloud. The concept of the public cloud is revolutionary. The idea of ridding ourselves of our hardware centric data centers to a more flexible, scalable, and resilient world of the cloud is indeed liberating. Internal IT can spend their time matching business needs with solutions rather than allocating their time to maintaining hardware that will only have to be replaced one day. It is wonderful to contemplate and visualize all the ways the cloud can make your job as an IT manager so much easier.
Then reality kicks in.
Unless you are a new business startup, the idea of simply moving your application infrastructure to the cloud in one fell swoop is unrealistic. Many government organizations, financial institutions, and health care companies have to conform to industry compliances and government regulations that restrict some types of data and services from residing in the cloud. Many of the enterprise applications that companies utilize are not designed for the cloud or are too latency sensitive to accommodate the cloud environment. In other instances, it may not be feasible to move the mammoth amounts of data that companies have created locally for so long. There is also the undertaking of testing each application and service migrated to the cloud before it is put into production. It is for these and other reasons that companies are increasingly turning to hybrid cloud models. In fact, a small trend is beginning to emerge in which companies that originally went "all in" with the public cloud are now repatriating some of their applications and services back to the comfortable and secure confines of their on-premises enclosure.
Native Integration
All of the major cloud providers such as AWS and Azure offer hybrid cloud models, but Azure has one key advantage over all of them. Amazon does not have a presence within your data center and neither does Google other than organizations that may be utilizing Chrome client devices. If you are a Windows-based enterprise, who knows how to integrate with that environment better than the company that created it in the first place?
For instance, Windows 10 devices give you the option of being AD joined or Azure joined. This allows organizations the flexibility of assigning devices to either environment upon deployment. Desktops, servers, and security compliant mobile devices can be AD joined where Group Policy can manage them. The rest of their devices can be Azure joined and managed through Intune or some other cloud based management system. School systems are using this approach with their one-to-one device implementations.
Small Steps
Azure makes it easy to transition to because you can move in small incremental steps. You can initially use Azure AD to host a domain controller synchronized to your on-premises AD. This allows redundancy for mobile devices should there be any sort of disruption to the internal infrastructure. With Azure AD, you can also provide SSO capabilities for cloud apps rather than depend on federated services on-premises. Azure AD supports native multi-factor authentication and integrates with Office 365, which inherently uses Azure AD. Azure Backup is an offsite backup as a service (BaaS) solutions that can back up all of your data within your data center, remote or branch offices, and even the public cloud. Azure offers security services that would be normally unobtainable for SMBs to implement themselves.
Azure Stack
Many in the industry are calling Azure Stack a game changer. Azure Stack gives organizations the ability to obtain all of the benefits of the cloud for their applications and services that must reside on-premises. Azure Stack is a complete turnkey solution that is available through three server vendors including HPE, Dell, and Lenovo. All three companies offer a hyperconverged integrated (HCI) solution that is hardware certified for Azure. The software itself is free but it does requires an Azure subscription. Azure Stack creates a single but complete ecosystem for your public and private cloud. It is Hybrid Cloud in a box as resources in one can manage both environments through a single interface.
This unified approach greatly simplifies software deployment as developers can deploy new applications to either public or on-premises as both programming platforms are identical. It also means that your developers do not have to learn a new platform to create and modify code for cloud applications as Azure simply utilizes the same Visual Studio and .Net environments they are already accustomed to working with. New applications can be tested in one environment and then be moved to the other for production. Azure Stack can also leverage thousands of pre-built solutions from the Azure Marketplace, opening the door for companies working on-premises to benefit from solutions only available in the public cloud.
Conclusion
Not all of this means that the cloud is not all it is cracked up to be. It simply means that enterprises, applications, and perhaps the world at large is not ready for a 100% cloud environment yet, and maybe it never will. For now at least, both business and IT leaders are recognizing the need for the hybrid cloud, and that Azure is a natural choice, especially for those Windows-based enterprises.
Next Steps: Learn how to launch your hybrid cloud digital transformation with this white paper.