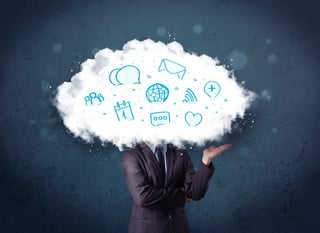 As a society, we love to put entities head-to-head against one another. Automotive enthusiasts have debated Ford vs. Chevy for decades. Every year college football fans debate which conference is stronger: Big Ten or SEC. When it comes to IaaS cloud computing, the inevitable debate between Azure and AWS separates the room between enthusiasts of each provider as well. Unfortunately, deliberating between the two in hopes of distinguishing a clear winner is kind of like debating who the greater basketball player is between LeBron James and Michael Jordan. It kind of all depends on your point of view and what you value.
Both AWS and Azure offer Infrastructure-as-a-Service (IaaS), Platform-as-a-Service (PaaS) and Software-as-a-Service (SaaS) cloud models. While the early pioneers of cloud computing primarily used these services for testing environments, the flexibility of cloud bursting offered great value to enterprises who began incorporating public clouds as an extension of the data center. Both of these players can accommodate large enterprises and can now offer the enterprise security and compliance driven environments that government organizations demand. Today, it is common practice for a new business to host all of their resources and services in the cloud.
Size and Reach Comparison
AWS has long been the dominant player in the cloud services market since it began in 2006. It has more data centers throughout the world and boasts a substantially larger market share than any other cloud provider. However, Microsoft has poured resources into Azure as of late and its growth rate is currently outpacing that of AWS, although it has a long way to catch up. In the end, size and market share have little bearing unless you are hosting services in a remote part of the world. Gartner only lists AWS and Azure in the Leaders Quadrant of the public cloud space so each of them is ahead of the rest of the pack, which includes such names as IBM, Google and Rackspace.
Price
With AWS and Azure you only pay for the resources you use, which is one of the primary appeals of cloud computing. Cloud computing costs are based on rather complicated formulas, which make price comparison challenging at the least. One small difference until recently has been that AWS charged by the hour while Azure charged by the minute, making Azure's pricing more precise. In October, AWS announced that they are changing over to per second billing. In the end, identical services from both providers will pretty much cost about the same.
Features and Manageability
AWS has enjoyed some key advantages over its competitors because of its five-year head start. As a result, AWS has been able to offer a more mature feature rich environment when compared to Azure and the rest of its competitors. This is especially true for web services, which has been its strong suit. AWS also has the reputation for greater customization and flexibility and offers greater support for an exorbitant number of third party integrations. On the other hand, it is thought that AWS requires a greater learning curve to master greater complexity. Most agree that Azure is easier to hit the ground running with out of the box. This is especially true for IT professionals and business owners who are accustomed to the Microsoft way of doing things and are comfortable with the Windows Server interface.
Supported Operating Systems
This point of comparison is perhaps where the two offerings distinguish themselves from each other the most, at least for the time being. AWS has a better relationship with the open source community, which makes perfect sense when contrasted to Microsoft. AWS has traditionally been the standout choice for open source developers as Microsoft has had a history of turning its back to open source applications. Linux has been a foundation block for AWS since the beginning. It inherently offers more open source integrations for platforms such as Github or automation servers such as Jenkins.
As expected, Microsoft holds a huge advantage offering native integration for Windows development tools such as VBS, SQL database, and Active Directory. Azure offers native integration for many of its popular tools. The ability to integrate the same AD accounts for both Azure and Office 365 is a huge plus for many organizations. Azure is considered a better fit for .Net developers as publishing applications to Azure is extremely simple.
Although it is easy to assert AWS the winner for open source and Azure the clear favorite for Windows professionals, these are no longer hard fast rules as each player is actively strengthening its hand to shore up any perceived weaknesses.
Conclusion
Saying that one of these public cloud providers is better than the other is like saying Coke is better than Pepsi. Neither one holds a clear distinct advantage of the other from a macro perspective. In the end, every business and organization needs to address what its needs are to determine which provider is the better choice.
Next Steps: Learn how to launch your hybrid cloud digital transformation with this white paper.