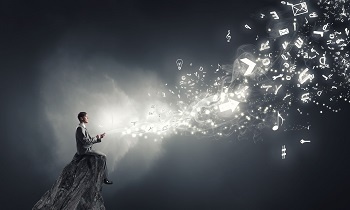 One of the reasons why IoT is so vulnerable to attacks is the lack of visibility in what is truly happening in your environment. This is where edge computing comes in. Edge computing is about keeping compute proximal to the physical environment where it is collected in the first place, rather than forwarding everything to the cloud (particularly processing and storage). In the same way that the client/server computing model replaced the mainframe, enterprises are beginning to realize the benefit of a distributed computing model when it comes to IoT. Client/server architecture put processing power in physical proximity of the end user. Edge computing provides a local segmented processing network for IoT devices.
While edge computing accommodates more than just IoT environments, it is highly suited for the next generation of endpoints that works inverse in relation to the Internet and traditional IT architecture.
The network edge is not just any edge.
It is the Intelligent Edge.
Microsoft unveiled their Intelligent Edge strategy in 2018, stating that companies that intelligently harness the edge will likely be on better footing than those who don't. Says Microsoft CEO, Satya Nadella, "It's all about the 'Intelligent Edge,' bringing applications at the core of an enterprise's digital transformation from the cloud to local devices, where they can drive business results in real time."
The phrase "intelligent edge" was originally coined by Aruba and the company is committed to spend $4 billion over the next four years in order to build and create next-generation architecture that is edge-centric. So where is this intelligent edge? It's everywhere: a manufacturing floor, a cell tower, a smart building, a crop field, oil rig, sports arena, telecommunications outpost or even your house.
Aruba defines three broad categories of intelligent edges
Operational Technology Edges (OT) – These types of edges include power plants and offshore oil rigs for instance
IoT Edges – This is the most popular category and includes security and transportation companies
Information Technology (IT) Edges – Telecommunications, retail and media industries are common examples. For instance, 88 percent of retailers state that IoT has increased business efficiency and has allowed greater engagement with shoppers.
What makes the edge intelligent according to Aruba, an HPE company, is the presence of technology that is smart, connected, computational and controlling. This combination provides the intelligent edge analytical capabilities that once were confined to on-premises or cloud data centers. Intelligent edges host the capability to compute and provide data to applications in order to reveal deep insights that can then be used to take controlled action.
Aruba is famous for their smart building headquarters that allows employees to navigate throughout their building using a smartphone app to help locate available conference rooms, printers or fellow employees. This concept can be applied to all site locations, creating smart digital workplaces that provide secure, reliable experiences that are optimized and personalized for each employee and guest. All of this occurs on-premises in automated fashion.
In a concerted effort to help customers modernize their branch networks, Aruba has introduced a solution called Software Defined Branch (SD-Branch). Specifically designed to improve branch operations and agility, SD-Branch enhances visibility, control and policy enforcement by integrating operations, security and management into a single gateway appliance. By integrating multiple network functions into software that runs in a single box, SD-Branch significantly simplifies the management and communicative processes of branch locations. SD-Branch integrates with Aruba's ClearPass and Aruba Central, providing wired, wireless and WAN networking and policy enforcements. Combine this with Aruba's Zero Touch Provisioning (ZTP) that provides non-technical staff at branch locations a plug-and-play experience, eliminating the need for costly manual onsite deployments and configurations, and the potential cost savings is readily recognized.
Of course, Aruba is not the only company committed to the Intelligent Edge. Cisco recognizes that cloud contained solutions are too large and too costly to proliferate at the rate of IoT device proliferation. They are a leader in SD-WAN solutions designed to simplify, secure and speed up data driven processes of branch locations. VMware has also solidified its role as a leader in edge computing with its vSAN hyperconverged infrastructure (HCI) solution and NSX SD-WAN products. It also recently unveiled VMware Pulse IoT Center, an enterprise-grade IoT device management and monitoring solution that surveys the entire network path, from the edge to the cloud. By using HCI solutions that are easy to manage, scale and update, customers can accelerate IoT initiatives and realize ROI faster. These solutions are designed for edge and IoT infrastructure complexities such as real time analytics.
Summary
"Data is the new intellectual property," says Antonio Neri. "Companies that can distill intelligence from their data—whether in a smart hospital or an autonomous car—will be the ones to lead," There is no doubt that the volume and velocity of data will increase exponentially over the coming years. This will further expose the inefficiency of streaming these monolithic perpetual data streams to a central data center for processing. According to Thomas Bittman, VP of Gartner, "Business moments are being missed because we cannot capture moving data fast enough." The edge is where everything is happening today, and it is where enterprises will find the answers.
In order for companies to get the most out of their IoT implementation, they need an understanding of edge computing architecture. However, roughly 80% of companies fear they lack the skills to make sense of all the data that IoT provides. That is why it is essential today to find an IT solutions provider that understands the relationship between IoT and edge computing and can help you create strategies that will empower your organization with strategic advantages over your competitors. Contact us today to start a discussion.
NEXT STEPS: Did you catch part 1 of this post on Edge Computing? If not, read "Is Your Enterprise Ready For The Edge?"
Find out how well your wireless infrastructure is performing with a wireless networking assessment from WEI. Learn more about it below!