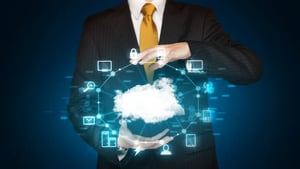 Last week, we covered a checklist of core requirements needed to prepare for multicloud storage deployments. This included internal operations and capabilities needed, as well as important questions to ask during the process.
This week, we will be looking at the top ten use cases for multicloud storage strategies.
Expanding Cloud Backup Options to Cut Costs
On and Off-Ramping Data
Clustering Mission-Critical SQL Databases in the Cloud
Accelerating Development, Automating DevOps
Moving an Application Using Docker Containers
Using the Cloud for Disaster Recovery
Cloud Bursting for Free (Almost)
Switching Between Public Cloud Providers in a Flash
Monitoring and Predicting Usage Costs
Using Cloud Storage like You'd Use Your Storage Area Network
Expanding Cloud Backup Options to Cut Costs
42% of enterprises use cloud for backup and archive reasons. Multicloud storage services provide highly efficient data transfer and storage capabilities to create low-cost, flexible, safe alternatives for cloud backup. They cut the cost, while increase the performance and scalability of object storage, making it possible to harness the cloud for long-term retention and archiving of critical data.
On and Off-Ramping Data
Many organizations need the capability to move data from the data center to the cloud and back again in an easy and cost effective way. Multicloud options provide a great opportunity for that, particularly ones built specifically for enterprise applications and workloads. These storage clouds:
Accelerate migration with compression and change block tracking technologies
Enable simplified data transfer processes
Offer direct compatibility across clouds (previously not possible)
Include enterprise-class reliability and security features
The simplicity of on and off-ramping data with multicloud is a simplified, cost-effective process with a pay as you go structure ensuring enterprises aren't paying for storage and capabilities they don't need.
Clustering Mission-Critical SQL Databases in the Cloud
Typically, an organization's most sensitive and important data is stored in SQL databases. If anything goes wrong with that SQL database, the results could be disastrous. Clustering cannot be done with cloud block storage because clustering requires two compute instances. A workaround that mutlicloud provides is hosting those important SQL databases in a cloud with added redundancy. This ensures that the data is still available if anything happens to the cloud. In addition to this added level of redundancy, organizations use multicloud for this reason because clustering can be done to add shared access to the cloud where this data is being stored.
Accelerating Development, Automating DevOps
Multicloud is suitable for developers that need to be able to create data sets and clones for building, testing, and deploying apps into production. Multicloud is a viable and more affordable strategy than investing in more CapEx to cover the needed development resources. The portable and accessible nature of cloud structures extends to all databases, file servers, file shares, and any other needed applications and resources developers would need.
Moving an Application Using Containers
Containers are increasingly being used across enterprises because of the capabilities and features they provide. Docker and Kubernetes are two of the major players in the container space. Containerization allows for an entire software program, including everything it needs to run successfully, to be housed in one unit (container) to avoid errors between different applications, deployments, and systems. It can also be more efficient than virtual machines, as multiple containers can be run on one operating system and with a smaller amount of required space needed. Multicloud and container strategies seamlessly align with one another, making containerization an easy opportunity to see for any organization taking advantage of multicloud storage.
Using the Cloud for Disaster Recovery
Disaster recovery is one of the most frequently used and planned for aspects of a multicloud strategy. Organizations look into multicloud for backup and disaster recovery reasons alone. This is in large part due to the efficiency and appealing cost structure that a secure offsite data repository provides. With the advent of cloud-ready data protection, cloud-based DR has become even more practical and cost-efficient.
By allowing enterprises to put data in the cloud — or in multiple clouds — the cloud-ready data protection model provides new options for DR while bringing down the cost. Instead of maintaining a separate DR site with redundant compute infrastructure that doesn't get used unless there's a disaster (or you're testing your DR capabilities), now you can simply move data copies to the cloud and avoid all that CapEx.
Cloud Bursting for Free
Cloud bursting is the capability of extending workloads to the public cloud when the computing capacity needed to run an application in a data center or private cloud increases. In earlier cloud bursting models, this capability also brought with it some data security risks. Even more secure cloud bursting strategies didn't come without a significant cost associated with it. It is now possible to create many copies of data using cloning features without the need to pay for multiple copies of data. Unfortunately, cloud bursting is never completely free, but organizations can take advantage of cloud bursting in a multicloud model with incredibly low incremental costs, creating an illusion of it being free compared to the associated costs organizations experienced when cloud bursting prior.
Switching Between Public Cloud Providers in a Flash
Multicloud strategies enable organizations to avoid vendor lock-in with any cloud provider or company. Fortunately, the reasons for this give organizations the control and freedom to determine exactly which cloud providers will be utilized and at which times. The entire philosophy of multicloud is to provide increased flexibility and capability to move around and access data. This seamless accessibility extends into making decisions to entirely switch between public cloud providers.
Monitoring and Predicting Usage Costs
By integrating with predictive analytics capabilities, multicloud storage services can now perform automated monitoring and tracking of the resources you're actually using, so you know what your costs are going to be. You can see precisely how much capacity you're using in any given period of time, so there are no surprises when you receive an invoice. Multicloud storage services can also help you estimate future usage based on any number of variables that you provide, and resize capacity on-the-fly to meet future requirements.
Using Cloud Storage like You'd Use Your Storage Area Network
The multicloud model makes it easy to on-ramp data to the cloud and still get enterprise-grade data capabilities and consistent data services — so you can actually start using the cloud the way you used to use storage area networks, but for a lot less money.
Now What?
At this point we have covered a range of topics within the realm of multicloud storage strategies, such as:
This blog on multicloud storage use cases
Multicloud is and has proven to be a worthwhile strategy for enterprises to take advantage of on the road to digital transformation. This series of blogs covered all angles of a multicloud storage strategy and deployment. Talking to an IT solutions provider can help to answer any additional questions. For more information on how to optimize your multicloud strategy or to get started with multicloud, talk to the multicloud experts at WEI.
Next Steps: Get everything multicloud in one place by downloading HPE's full eBook, "Multicloud Storage for Dummies."