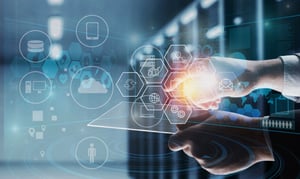 Embracing new advances in technology and moving business in a more digital direction is a priority for enterprises in every industry. However, beginning a digital innovation or transformation journey is only step one of the process. The next step is developing a strategy to ensure you meet your digital goals.
Between the cost and resource commitment that digital innovation requires, many IT leaders hope to speed along the process and finish as quickly as possible. While this can reduce some costs, the long-term effects can cost more over time, especially if the new technologies adopted during this process are not properly accounted for in security strategies.
That's why the next step after building your initial roadmap to digital success is to plan your digital innovation security strategy.
How can enterprises ensure security?
Now that we've established the importance of prioritizing security during your digital innovation journey, let's talk about how enterprises can tackle this challenge.
1. Assess potential operational disruptions
First and foremost, IT leaders must take a holistic view of existing operations and evaluate how the new technology will impact them. This includes assessing the amount of operational disruption the enterprise should expect over the course of the journey, taking data migration into account, as well as evaluating whether current IT personnel have the experience or training needed to properly administer the new technologies.
In terms of operational disruption, enterprises should consider both the time and resources required to implement the new technology, as well as the time spent acquiring any additional resources (including IT staffing, hardware, or software) needed to properly manage the new technology. Also, consider potential disruptions that could impede the digital innovation process, ranging from critical day-to-day activities to unexpected downtime or delays in acquiring needed materials or staff.
Data migration, especially when cloud platforms are involved, should be given a high priority in this first phase of planning. Questions that should be asked include:
Does our enterprise have the necessary resources for lifecycle management once the new technologies are in place?
Can our security policies be enforced consistently across the network?
How will our multiple cloud platforms be affected?
2. Consider data security requirements
Whenever enterprises begin utilizing new technology, ensuring critical data such as intellectual property or identifiable customer information is protected to industry standards is a paramount responsibility. Enterprises should ensure security measures can be applied consistently and put processes in place should an issue ever be discovered. Along these lines, ensuring IT has visibility to data across multiple environments is also important to ensuring industry compliance.
Similarly, when suppliers and vendors are brought into the fold, it should be done securely and through standardized processes. Vendors should be screened before the final decision is made on any new technology to ensure they can integrate with existing security protocols.
3. Evaluate existing security solutions
A digital innovation journey often includes upgrading security solutions, and for good reason. Legacy solutions are no longer able to provide the speed or scale that enterprises need to be flexible to employee and customer needs in today's rapidly evolving world.
To determine whether your enterprise should investigate new security solutions, IT leaders should consider the following:
Will the existing security solutions keep up with the new technologies implemented during your digital innovation journey?
How will the existing security solutions interact with a hybrid cloud environment?
Will the new technologies open additional or new avenues for cyberattacks? If so, can the existing solutions tackle those vulnerabilities?
Are additional levels of security needed beyond what the existing solutions
provide?
The next steps
Once those considerations have been made and it's found new security solutions are in order, the next steps should be to determine exactly what the enterprise needs in terms of security and what solutions on the market can fulfill those needs.
As a global leader in security, Fortinet offers a portfolio of solutions, from email security to next-generation firewalls to secure multi-cloud SD-WAN. These offerings make up the building blocks of Fortinet's Security Fabric, which can provide the security enterprises need on every step of the digital innovation journey.
Are you interested in Fortinet security solutions?
Fortinet secures many of the largest enterprises, service providers, and government organizations worldwide. Through its intelligently designed security solutions, Fortinet allows enterprises to take on the ever-increasing performance requirements of the digital-based world. Over 450,000 customers trust Fortinet to protect their data through Fortinet's vast portfolio of security solutions and its comprehensive Security Fabric. Contact WEI today to learn more about how the Fortinet security portfolio can work for your business.
NEXT STEPS: Learn about the security technology landscape and the solutions that matter most to enterprise leaders as they digitally transform their organization. Click below to access your free copy of our ebook, "IT Leader's Guide to Enterprise Security in a Digital World," and start reading today