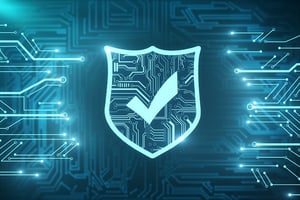 To stay competitive and fulfill customer needs, today's enterprises demand unparalleled availability and resiliency in all aspects, including data centers. At the same time, the attack surface is growing ever larger through rapid digital expansion, and cybercriminals are becoming more sophisticated day by day.
To protect vital data, without compromising availability and performance, enterprises need a security solution that can handle distributed hybrid IT environments that combine virtual, on-premises, and cloud environments, while also adapting to segmented environments and communicating with third-party security solutions.
So, what solution can enterprises turn to in this hour of need? Fortinet NGFWs (next-generation firewalls).
Fortinet NGFWs offer a proactive take on IT security
It's not enough for enterprises to react to security threats. Instead, security teams need the ability find security weaknesses and address them before an attack happens. Fortinet NGFWs facilitate, and more, through a variety of security features.
1. Fortinet security fabric
First, and perhaps most importantly, Fortinet NGFWs are a part of the Fortinet Security Fabric and the Fortinet portfolio of security solutions, including FortiGuard Labs, offer comprehensive, network-wide security. FortiGuard Labs brings integrated threat intelligence, shared in real time across the security infrastructure, to prevent known attacks, as well as artificial intelligence (AI)-driven detection of unknown threats.
2. Integration with third-party solutions
Second, Fortinet NGFWs also allow enterprises to integrate with existing security solutions through open APIs, offering increased protection, especially as DevOps environments change. These enterprise firewalls can also adapt to any network segmentation strategy, utilized by enterprises to secure workloads by keeping them isolated from one another.
3. Automation
Third, compliance reporting, audits, and orchestration can all be automated, enabling IT security teams to keep pace with evolving security regulations across the industry. The Fortinet Security Rating Service, part of the Fortinet Security Fabric architecture, allows security teams to proactively manage and improve security over time.
4. Scalability and resilience
Fortinet NGFWs offer the maximum availability and resiliency that today's enterprises expect in enterprise firewalls. Through five-nines availability and superior mean time between failures (MTBF), Fortinet NGFW's can keep up with today's increased traffic demands, for both encrypted and unencrypted traffic. Unlike many other NGFWs, Fortinet NGFWs do not experience serious performance degradation when inspecting SSL/TLS traffic.
Enterprise firewalls for data centers
Through digital transformation efforts and other business advancements, data centers are becoming increasingly distributed across hybrid IT environments. To ensure security and availability for business continuity, especially in a time of remote working, network engineering must adopt integrated security architectures that include features like shared threat intelligence and access control. Additionally, to stay ahead of security threats, modern enterprise firewalls need to be able to scale as traffic demands, while also offering automation and orchestration to reduce security costs.
Are you interested in Fortinet NGFWs?
Fortinet offers comprehensive and holistic security solutions for the largest enterprise, service provider, and government organizations in the world. From NGFWs to email security, Fortinet ensures security without compromising performance. Recognized in 2019 in the Gartner Magic Quadrant for Network Firewalls report, Fortinet continues to empower its customers and help them stay ahead of evolving security challenges through intelligent security solutions.
NEXT STEPS: With a constantly evolving threat landscape, do you have the right security strategy in place to protect your enterprise? Find out which solutions our security experts recommend for a modern digital enterprise in our eBook below.