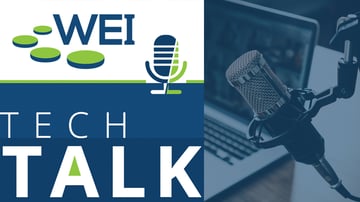 You're getting ready for the workday, whether it is going to be spent at home or in the work office. You eventually get to your desk and engage with emails, answer IT support tickets, and correspond with colleagues on the group chat. The busy start does not go without your favorite podcast, however. You pop in your ear buds and continue the podcast series that expands on whichever niche topic that interests you. The episode holds your attention just enough to enable easy learning. Whatever the topic is, you are locked in and ready to support your IT team.
Does this scenario sound familiar? It should. 2021 served as a major springboard that lifted podcasts from a niche market to a mainstream media source. According to Demand Sage, there are over 460 million podcast listeners globally with 75% of Americans at least aware of the term podcast. In fact, the United States is home to the most podcast listeners with more than 100 million active podcast listeners predicted for 2023.

The average listener will subscribe to a variety of niche subjects such as pet care, mental health, personal financing, backyard barbeque recipes, gardening, parenting hacks, and even homebrewing. Listeners can remain actively engaged without the use of a screen, thus allowing them to listen and learn while going for a walk or putting in desk time.
The platform is a great opportunity for advertisers to make their presence known, but the differences with broadcast radio in message delivery are staggering. Podcast hosts often read the promos, thus immersing themselves into the product/service and giving their own personal twist. This person-to-person messaging not only gives the featured product/service more credibility, but it also serves as a nice substitute to the standardized jingles and messaging delivered by someone completely unrelated to the podcast.
WEI Enters The Podcast Arena
WEI is excited to announce the launch of its first-ever podcast series, The WEI Tech Talk Podcast. Publishing episodes weekly, the series will reprise the best conversations from recent virtual events. Many episodes will include appearances from the technology industry's most well known and respected leaders, such as Linda Bernardi, Rachel Wilson, and Theresa Payton. WEI's longstanding partnerships with the industry's most respected vendors allows our team to attract top talents to discuss the most pressing technology trends and solutions.
Listeners will also hear from WEI's most prominent solution leaders including David Fafel and Greg LaBrie. Special guests from outside the technology arena, such as David Ortiz, CHEF NAME, and country singer Chase Rice will also make appearances.
Episode One Preview
In episode one, renown cybersecurity expert Rachel Wilson leads a conversation about cybersecurity challenges. These are issues ranging from secure code development standards, secure network architecture, vendor relationships, Advanced Persistent Threat detection, and mobile security.
Afterward, the podcast welcomes experts from WEI and HPE. They will expand on data protection and disaster recovery options to combat cyber threats to your organization, data, and self.
How To Subscribe, Listen
The WEI Tech Talk Podcast is now available on Apple Podcasts and Spotify. Be sure to follow our social media for weekly episode releases!