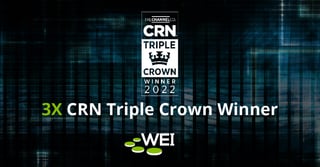 For over 30 years, WEI's success has centered around customer relationships. We remain heavily invested in the success of our customers, and the engineering pedigree that we have attracted serves as a catalyst for why our customers continue to grow and prosper with our custom solutions. This is a recipe that recently earned WEI its third CRN Triple Crown Award, from prestigious CRN.
We don't just innovate – we creatively innovate. From the initial assessment to solution deployment and ongoing monitoring, WEI's award-winning formula puts your enterprise in a cost-effective position to succeed with real, tangible business outcomes. Award-winning differentiators include:
We hire the best engineers in the industry and empower them with the freedom to create best-in-class business solutions.
Our engineers maintain an extensive variety of certifications and training to address a wide range of potential problems.
We have a zero DOA policy. We don't dropship any product. We open it, test it, and get the systems ready to deploy for you. We track the warranty.
24x365 support line and on-call engineers.
We hold customer inventory locked and secured until needed.
We provide free workshops around the calendar year for our customers in our state-of-the-art training facility.
A 30-year track record of putting our customer's needs first.
Three-Time CRN Triple Crown Winner
Most recently, WEI was named as New Hampshire's lone recipient of the 2022 CRN Triple Crown Award, and just one of six solution providers in New England to do so. This prestigious award reflects the incredible work of our team and comes during a period where many solution providers are facing either an acquisition or sizable restructure. This year, CRN placed WEI on the Tech Elite 250 List, Solution Provider 500 List, and Fast Growth 150 List to make us eligible for the Triple Crown for a third time.
News of this highly anticipated award came only days before Cradlepoint designated WEI as 5G for Enterprise Branch Specialization. While these awards mean a lot to our organization, they pale in comparison to the opportunities they have given us to provide our clients the solutions and services they need for their own success.
The IT Industry Is Growing And So Is WEI
Across the country, many businesses are struggling to stay afloat in the tempestuous market, but we are making sure our customers still receive the same service they've come to expect from WEI. Here's what this means on a more practical level:
Retaining A Large Bench Of Subject Matter Experts. We have not stopped hiring as we continue filling the gaps required to meet customer needs and align with industry trends.
Being A Stocking Reseller. The majority of VARs are reducing overhead costs by transitioning to a minimal-touch model known as drop shipping. Meanwhile, WEI maintains a large warehouse stocked with the items required for customer needs. This also helps to mitigate lead times.
Staff Augmentation. WEI has carefully crafted a flexible augmentation service that allows utilization of a vast pool of skilled technical resources from one day to one year. This cost-effective strategy simplifies the contracting process and offers you easy access to a broad range of technical skills that are getting harder to find.
Conclusion
As the IT industry continues to experience supply chain delays and enterprises everywhere are struggling to hire competent personnel to support their IT environment, WEI continues to prove itself as a top solutions provider. Every day, our team documents the pain points that our customers experience and we work to find a solution that not only solves their challenge, but also equips them for down the road.
WEI continually looks for the most innovative ways to address the unique IT challenges of every organization we serve. We invest time, energy, and technology know-how into building long-term customer relationships. The way we see it, every engagement is an opportunity to measurably improve your business by delivering leading-edge technology solutions that other IT vendors do not offer. Contact WEI today.