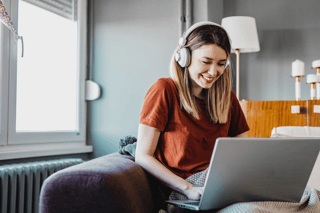 Gone are the days of working solely from the office. Although there are perks to working on-site such as better security and network connectivity, most people do enjoy being able to work from anywhere. It's no surprise that 66% of executives are accommodating hybrid work. Employees have a new outlook when it comes to work since COVID, and that is why businesses are figuring out a better post-pandemic office strategy for their teams.
Ensuring enterprise technology works the way it's supposed to is probably the most important aspect of hybrid or remote work. Updated technology can empower employees to work more efficiently by being able to collaborate easier as well as have 24/7 access to information needed for their job. Hybrid workplace technology can also gain better insights on troubleshooting IT issues. As the leader of the Client Product Group at Dell Technologies, Ed Ward, states, "Hybrid work is no longer an afterthought or a privilege, it is the standard. While employees are moving between locations to get work done, creating a productive experience is the priority."
An Advanced Hybrid Work Solution
New research from Dell Technologies tells us that "44% of people want their leaders to empower them to choose their preferred working pattern and provide the necessary tools and infrastructure to do their jobs." To better support any post-pandemic office strategy, organizations need to invest in powerful technology from better laptops to upgraded security features.
Having a hybrid work solution such as Dell's new portfolio that includes Latitude PCs can help organizations upgrade PCs to stay up to date with security, efficiency, and more. Here are a few reasons why upgrading your hybrid workplace technology is vital for any business.
Improve Privacy
Major security incidents are happening more frequently than ever and are continuing to rise. Therefore, it's crucial to ensure your hybrid workplace solution can fight security vulnerabilities. Dell's latest commercial portfolio has an integrated artificial intelligence software suite that powers intelligent PCs. One of its many capabilities is allowing users to hide sensitive data on their screen from a suspected intruder. The PC will also automatically dim once the user looks away in order to protect data and preserve power. It may be easier to protect all employees when working on-site, but as hybrid work is here to stay, businesses must adapt with a post-pandemic office strategy such as Dell Optimizer.
Maximize Performance
Implementing hybrid work causes many enterprises to rethink team communication and collaboration strategies. Finding tools that can free employees from needing to work on-site every day is an important aspect of hybrid work. There needs to be a seamless transition for team members to track projects, share files efficiently, and communicate through video and other means. Hybrid work solutions like Dell Optimizer includes multi-network connection, which allows users to connect to a number of wired or wireless networks at once. This leads to quicker data transfers and downloads so employees can work with more efficiency and ease.
Enhance Innovation
Upgrading technologies in any business can truly propel innovation by making many work processes more efficient. For example, Dell Optimizer has features that improve background noise cancellation while on a call. Also, the Latitude PCs from Dell make it easier to work from anywhere with the latest 5G and Wi-Fi 6E tools. These types of hybrid workplace technology advancements can give users and IT admins more flexibility, allowing for more productivity and a better work-life balance. Creating a workplace culture that values personal time and ensures employees have all of the necessary tools to get their job done can boost innovation. Team members will be more likely to reach their full potential when they can easily be productive, connected, and centered.
Conclusion
When deciding what devices to use for your post-pandemic office strategy, it's important to determine which device types will make workflows and daily tasks easier while also protecting sensitive data when employees are working in the office or somewhere else.
There is no doubt that a hybrid workforce is the norm for many companies now and in the future. This concept lends itself to flexibility, innovation, and productivity. Along with that, the right hybrid workplace technology is essential in supporting this new way of working. Organizations equipped with updated digital tools such as Dell's new technology portfolio aimed at enhancing hybrid work can create a better environment for employees and help power operations.
If your business would like to learn more about creating a hybrid workplace solution that can help your team and organization grow, contact our experts today. We have experience across all Dell systems and can help create custom solutions for your hybrid team to reach organization goals.
Next Steps: Enhance your hybrid work experience by downloading our tech brief, Optimize The Hybrid Work Environment With Privacy, Connectivity, And Collaboration.