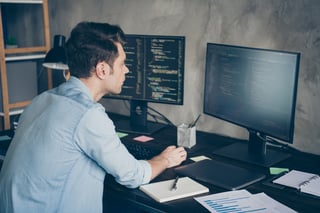 As enterprises strive to meet business goals while using increasingly varied IT applications, a growing need eventually emerges to validate and upgrade the underlying infrastructures to keep up with business demand. Infrastructure testing is a vital step in staying ahead of the ever-increasing IT complexities, but is your business doing this frequently and effectively enough?
Four Reasons To Perform Infrastructure Testing
The infrastructure-testing process has a wealth of operational and security benefits for enterprises. Making sure your IT infrastructure is up to date facilitates a more stable, reliable, and secure system that end-users and internal processes can depend on. Here are several primary benefits of infrastructure testing.
Testing allows your enterprise to confirm that vulnerabilities are identified and corrected before a cyberattack hits, protecting your organization from fiscal and reputational damage. This benefit carries extra weight due to the annual increase of ransomware incidents.

A successful infrastructure testing process also helps reduce the number of production failures, leading to less downtime and financial loss. This reduction includes the cost of lost business during the time systems are offline and the expenses created by identifying and fixing the issue.

Infrastructure testing also presents an opportunity for IT administrators to review what legacy items still exist in their environment. With support ending for

VMware vSphere 6.5 and 6.7 in October 2022 and vSphere 8.0 being released soon, enterprises that have delayed an upgrade for the past two years are now staring at a hurried process to upgrade their legacy hardware and software. This is a common pain point that WEI assists its customers with.
Hardware virtualization platforms like VMware vSphere 7.3 are known by many system administrators for improved stability, performance, and usability. By having a more reliable environment, your company can also give end-users and developers confidence in your system, which allows for simpler scalability. This also means reduced times for development cycles, which helps organizations react quicker to a changing environment.
In order to meet the demands of high-performance apps, you need to regularly conduct infrastructure testing. In general, you should consider running these any time there are infrastructure-related changes to a system such as the development of new patches, updates to your operating system, or security fixes.
VMware vSphere 7.3 Supports Your Infrastructure
With VMware vSphere, you can rest assured that your enterprise's infrastructure is supported so you can meet your business goals. With vSphere 7.3 you have:
vSphere Memory Monitoring and Remediation with added support for snapshots of Persistent Memory (PMem) virtual machines (VMs).

The ability to use vSphere Lifecycle Manager images to manage a vSAN stretched cluster and its witness host.

The ability for admins to configure vCLS virtual machines to run on specific datastores by configuring the vCLS VM datastore preference per cluster.

Improved interoperability between vCenter Server and ESXi versions.

Zero downtime and zero data loss for mission critical VMs in case of Machine Check Exception (MCE) hardware failure.
Coming October 2022: vSphere 8.0
VMware announced that vSphere 8.0 is on its way and is scheduled to be generally available in October 2022. Administrators who have yet to upgrade from vSphere 6.5/6.7 are probably wondering if they should upgrade directly to 8.0. They can, but it will likely prove costly due to existing legacy hardware and software items. Remember, vSphere 6.5 was released in 2018 and is part of a virtualization platform that is almost 10 years old. So, in short, an incremental upgrade to 7.3 is anticipated for most.
Conclusion
If you use hardware virtualization platforms like VMware vSphere, it's always vital to make sure you upgrade to the latest updated version. Administrators who run unsupported legacy platforms increase their risk of security breaches and high expenses. Devoting time and resources early to an effective infrastructure testing system can ensure all company networks are safe and able to cope with constant changes.
WEI can assist you in mapping out a long term strategy for system upgrades if you don't have the time or resources. We can assess your environment, understand its vulnerabilities, and work with your team on a custom-tailored approach that best fits your business priorities. Contact us to get started today.

Next Steps : Learn more about what WEI Senior Architect and Virtualization Ambassador Mark Gabryjelski has to say about VMware vSphere along with the importance of infrastructure testing in our tech talk, available below.