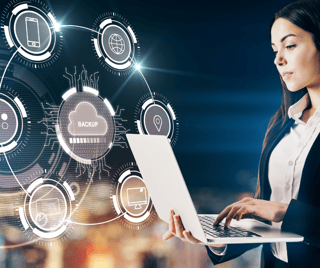 Have you ever cleaned your house and identified random items scattered around or realized an appliance needs maintenance? Businesses experience similar scenarios when dealing with data and workloads. It's like navigating a cluttered space in desperate need of organization. That's where HPE GreenLake comes in. This technology can be your personal organization guru and bring order to your data.
With the introduction of Alletra MP, HPE has strengthened its brand strategy and enhanced the power of HPE GreenLake. In the following sections, we will delve into HPE GreenLake's storage options and guide you through the process of selecting the optimal solution for your business needs.
HPE GreenLake For Block Storage
HPE GreenLake for Block Storage offers a robust and scalable solution for midrange mission-critical storage needs. It introduces a unique disaggregated, scale-out block storage approach to ensure 100% data availability while surpassing limitations of traditional storage-as-a-service setups.
HPE GreenLake for Block Storage is suited for businesses looking for:
Cost-Effective Transformation: The service offers an intuitive cloud experience at a reasonable, midrange price point.
AI-Driven Excellence: Utilizes AIOps for autonomous operations, minimizing downtime and maintaining consistent application performance.
Flexible Consumption: HPE GreenLake for Block Storage uses a flexible consumption model, offering upfront purchases or monthly subscriptions tailored to each business's needs and budget.
Uncompromised Performance: With various block storage tiers, it ensures optimal performance and cloud operational benefits across mission-critical to general-purpose applications to promote operational simplicity and agility.
Tailored to deliver cloud-like on-premises storage, this service leverages HPE Alletra storage platforms to effectively support applications that rely on block-based storage. It extends the operational model of the cloud to on-premises, colocation, and edge workloads, all managed through a single, self-service, and user-friendly cloud.
This simplicity in data management across various applications through enterprise block storage enhances agility and streamlines new app deployment. The AI-managed self-service agility feature further boosts both data management and infrastructure efficiency to accommodate all application types.
HPE GreenLake For File Storage
HPE GreenLake for File Storage empowers data-intensive tasks with speed and agility. This storage solution offers scalable enterprise performance, reliable edge-to-cloud experience, and a guaranteed all-NVMe performance across varying data scales.
This service offers a multitude of benefits for data-driven enterprises, including:
Scalability And Future-Proofing: Fueled by VAST Data and HPE Alletra Storage MP hardware, the File Storage's exabyte-scale architecture is capable of scaling performance and capacity effortlessly at a lower cost.
Simplify With Cloud: Effortlessly manage, monitor, and safeguard extensive file data throughout your hybrid cloud using unified solutions. Additionally, workloads are made faster through automated onboarding and simple file share establishment, including seamless upgrades and proactive support.
Empower Teams: HPE GreenLake for File Storage boosts the speed of data-intensive workloads and empowers collaboration in the global namespace, freeing data scientists and application owners from legacy chains.
Resiliency And Efficiency: This tool accelerates innovation with a faster read performance of 100s of GB/second and ensures 99.9999% availability.
Data drives contemporary businesses and operations, and it is important to store and access insights efficiently. HPE GreenLake for File Storage addresses this need by offering rapid access to AI, machine learning, gig data, deep learning, high-performance computing, life sciences, financial analytics, media and entertainment, extensive data lakes, and data archives.
Which GreenLake Is Right For Your Business?
If your business relies heavily on data, HPE GreenLake for File Storage offers ideal scalability and enterprise-grade performance. This service streamlines data management with a user-friendly cloud interface and faster time to insights, which is important for data scientists and app owners.
On the other hand, HPE GreenLake for Block Storage offers essential storage features at mid-range budget-friendly costs. Being the pioneer of storage-as-a-service, it delivers a self-service framework and a certified 100% availability for mission-critical setups. This transition can lead to simplified storage management, operational streamlining, and heightened agility across your ecosystem.
Choosing the best option really depends on the needs of your business. These newly introduced file and block solutions utilize the versatile Alletra Storage MP architecture, enabling efficient data storage, management, and security across hybrid cloud environments.
Final Thoughts
Just as maintaining a clean and fully functional home is essential, effective data storage and management play a vital role in today's evolving digital landscape. HPE GreenLake for File and Block Storage are transformative solutions that offer scalability, agility, and performance while simplifying operations. Contact one of our storage solutions experts at WEI to learn how you can enhance productivity and maximize resources by harnessing the power of these solutions.
Next steps: The future of data storage is here with the HPE Alletra Storage platform supporting both block and file stores, along with the HPE GreenLake edge-to-cloud platform that enables workload administration and data protection from a single-pane-of-glass. Learn more by downloading our free tech brief, Eliminate Costly Data Silos For Data-First Modernization.
Click to read Eliminate Costly Data Silos For Data-First Modernization