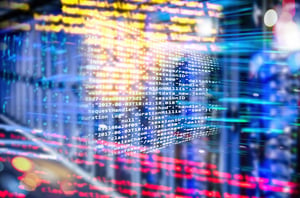 As the advance of technology marches on, enterprises get caught up in the never-ending cycles of upgrades, implementation of new technologies, and decommissioning of legacy systems. This is especially true when it comes to the IT infrastructure, which forms the backbone of your enterprise's digital existence.
For many enterprise leaders, the necessity of frequent upgrades may come into question. Afterall, in their perspective, if what is currently being used is working, why spend the money, time and resources to change it?
It's up to IT to share the benefits of these upgrades and make the case that explains the necessity of upgraded systems. For those interested in HPE Synergy, we're making it easy by sharing the top four reasons to migrate your IT infrastructure.
1. HPE Synergy simplifies management
HPE Synergy, a composable bladed infrastructure, can power any workload on a single infrastructure, and offers significant benefits compared to legacy systems such as HPE BladeSystem.
However, despite the extra power and features, HPE Synergy is simpler to manage than legacy systems. HPE OneView powers HPE Synergy Composer, which comes built in and offers automated discovery of physical resources, reducing the possibility for human error, while also cutting down on setup time and the need for manual touchpoints.
When it comes time to implement firmware and driver updates, HPE Synergy has that covered too. The solution simplifies the firmware and driver distribution process, while also offering automatic updates for a single frame or group of frames from a single management point.
2. HPE Synergy offers greater ROI
For those teams trying to make the case to enterprise leaders that it's time to upgrade, HPE Synergy's ROI is a perfect selling point.
The numerous advantages that HPE Synergy offers in terms of architecture and management create cost savings in the long-term, resulting in a lowered total cost of ownership. In addition, the integrations with other HPE solutions, including HPE OneView, and HPE GreenLake, offer significant managerial benefits, reducing time and money spent on day-to-day and lifecycle management tasks.
By taking advantage of these interrogations, enterprises also reduce the need for additional software licenses and support costs.
3. HPE Synergy is built for the future
When selecting a new IT infrastructure system, enterprises want a solution that will last. HPE Synergy, like its precursors, is built to carry enterprises into the future.
To future-proof Synergy, HPE prioritized several key pieces, including additional bandwidth, more power headroom, which will help enterprises meet new demands as technology continues to advance, and extensible management, which will serve enterprises well as nonvolatile memory becomes a shareable resource.
4. Run on A single infrastructure
HPE Synergy's compute models offer IT the ability to make use of processors that consume higher levels of power, and provide a larger number of cores than past systems. This allows HPE Synergy to run applications that require higher performance CPU's, and more memory configurations.
HPE Synergy's storage and fabric architectures have also been built out, with its storage module able to hold up to 14 times more storage per server than HPE BladeSystem c-Class infrastructure. The rack-scale fabric architecture, which eliminates the need for standalone top-of-rack switches, offers four times more compute modules in a single fabric while also providing cost-efficient scaling, and simplified lifecycle management.
These features ensure that HPE Synergy can run both traditional and cloud-native workloads on a single infrastructure, further reducing management complexity and cost.
Are you ready to migrate to HPE Synergy?
HPE Synergy offers IT a way to deploy resources quickly, through a single interface and into any configuration for any workload. The solution supports current- and next-gen applications on the same infrastructure, while also accelerating application and service delivery. It also offers IT a developer-friendly infrastructure, giving IT the tools they need to automate infrastructure operations quickly and easily. If you're ready to start a discussion, contact WEI today.
NEXT STEPS: See how HPE Synergy works a with a demo from the WEI team! Ask our experts your toughest questions, find out how our customers are using it and the benefits they've experienced, and learn more about how HPE Synergy will fit in your enterprise environment.