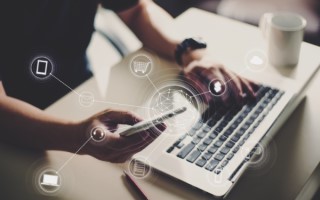 Hybrid work has now replaced remote work as the new buzz word. Let's be clear, however. Hybrid in this context represents mobility. Employees are going to be mobile, and the definition of the employee workspace is now changed forever.
The corporate office will become the hub of innovation, collaboration, and social interaction while the remote workspace will be where employees knock out work assignments and partake in their strings of video conferences. As the New York Times indicated, the five-day office week is probably over.
New Modern-Day PC is Needed
In 2020, companies rushed their employees out the door to the safety of their homes in response to the COVID outbreak. Back then, the aim was simply to get some sort of mobile device into the hands of those employees as quickly as possible. There was no time to think things through in that mad rush. But things have now calmed down and its evident that a new type of PC is required to enable the new mobile modern-day workforce. There was a time in which employees had a robust workstation at the office along with a mobile device that was sufficient to get them through while at home or on the road. That is no longer the case. Users need the same robust experience regardless of which workspace they happen to be operating from. A remote human experience depends on 4K ultra-HD videos, superior audio quality and screen sharing capabilities. These machines must have the resources to power these experiences along with multitasking and file transfers on top of it all. And then there is the issue of security as many of these machines will often operate in consumer grade networking environments. Sounds like we are going to need a whole lot more computers in the coming year.
The Great Refresh is Coming
Companies are recognizing that a supplementary computing device will not serve the needs of the modern-day workforce. Now consider the fact that Windows 11 has now been made available. It could be that 2022 is the year of the great PC refresh. Both IDC and Gartner are projecting that PC shipments will be greater than 340 million units next year with continued demand through 2025. There are more things to consider for this looming refresh than computer specs and features. The way in which enterprises provision, manage, and support these machines must adapt to hybrid work models as well.
Traditional Provisioning Practices are Outdated
The old-style tradition of handing over a new corporate laptop to a user is a thing of the past. New hires need to have a corporate computing device in their hands on day one, regardless of where that first day on the job is spent. Existing employees need their essential devices refreshed without any disruption or making a special trip into the office. Dell deployment takes the mundane burdens of imaging and setting configurations out of the hands of internal IT and deliver devices right to the door of whatever workspace your users might be residing at the time with all the applications and settings preconfigured at the Dell factory. According to an IDC whitepaper, a zero-touch deployment helped reduced PC deployment times as much as 50 percent.
Are you Still Relying on Traditional Helpdesk Ticketing for Support?
It's not just network latency you have to worry about. Work efficiency today is reliant on a proficient workstation experience. Small computer problems create latency throughout the workday. That's why end user support is so critical today. But how does internal IT support remote machines? How do they get access to the BIOS and initiate a system reboot from afar? How much time is wasted having end users submit a ticket that must be read before being addressed?
The modern-day workforce requires a modern-day support system, and that is what Dell ProSupport Suite provides. The number of tickets drop when you have AI-driven telemetry and predictive analytics working to detect and proactively prevent issues involving operating systems, software upgrades, driver updates, patches, malware, and applicable hardware failures. Dell ProSupport Suite for PCs gives your IT teams complete visibility into their PC fleet as well as performance recommendations. According to a report conducted last year, customers using Dell ProSupport Plus resolved hard drive issues up to 84 percent faster. Should additional support ever be needed, your IT teams have access to advanced technology experts at any time who are specifically trained on every aspect of these devices.
Modern-Day PC Management
You can't rely on Group Policy or on-premise systems to manage your remote PCs. With VMware Workspace ONE, your devices can be securely accessed from anywhere and your users can retain the same unified workspace across all their devices. According to a Forrester Study, Workspace One integration can help reduce resolution time for support calls by up to 50 percent. If you already have your own systems management platform such as Microsoft Endpoint Manager, that's fine too as Dell can add your new machines into your existing environment.
Protecting the Modern-Day Workforce
A remote workspace must be considered a zero-trust environment. That means remote data is constantly under threat, which is why you need Dell Trusted devices. Its not enough to safeguard PCs at or above the OS level. Dell gives you full visibility underneath the covers, giving you access to BIOS events and indicators of attack deep below the OS surface. Dell SafeGuard and Response uses AI and machine learning to identify and respond to hidden attacks. You also have the peace of mind that all sensitive data is automatically encrypted using Dell SafeData.
Its not just your legacy machines you need to refresh. Its your legacy approaches to provisioning, managing, supporting and securing those machines that need updating as well. Dell can upgrade it all, ensuring that you are prepared for the new modern-day workforce that needs to get to work.
Are Your Looking For A Partner To Support Your Remote Workforce?
Dell is committed to helping enterprises transform the way they do business. To support this, innovation is at the forefront of all their solutions, enabling you to transform your infrastructure and accelerate the innovation you need to stay competitive. We have expertise across all Dell systems and can help architect a custom solution to achieve your desired business outcomes.
NEXT STEPS: Your business needs technology that is flexible enough to support a hybrid workforce. Download our tech brief for the TOP FIVE ways modern technology is empowering the remote workforce in our paper below.