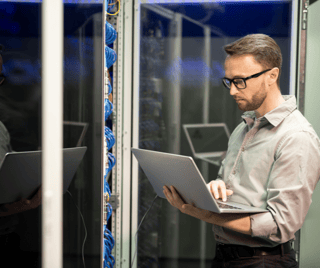 It is no surprise most enterprises are prioritizing network modernization in the day and age of digital transformation. Outdated infrastructure harms productivity and hinders security, making it a challenge to build a future-ready network that meets evolving expectations. All too often, our team will assess networks based on traditional VLAN architectures that will 100% struggle to accommodate hundreds of thousands of users and devices. A modern network should seamlessly connect remote workers to physical locations, data centers, and the cloud, following an edge-centric and data-driven approach.
As organizations embark on their journey towards network modernization, one of the most promising solutions that have emerged is Network as-a-Service (NaaS). In this article, we discuss its significance and identify why its adoption is a promising solution for your network modernization effort.
Embracing NaaS For Network Modernization
The emergence of NaaS platforms is a game-changer in network modernization, enabling businesses to be agile with changing needs through flexible consumption models. However, on the other side of this, a move to NaaS also presents potential concerns, including financial risks and customer default through contraction or revocation of service.
Despite these common and preventable challenges, incorporating new products and services with desirable pricing models ensures ongoing evolution. Moreover, offering diverse server and storage options from the outset facilitates sustainable customer relationship growth.
Principles Of Network Modernization
Creating an agile network that accelerates your organization might seem like a huge undertaking, but it also makes for an incredibly positive difference in productivity. Here are five principles to keep in mind to help you manage network modernization effectively:
1. Connectivity And Scalability
Traditional virtual LAN (VLAN) architectures may face challenges accommodating the increasing number of users and devices. To address the evolving need to scale workloads, organizations should consider the following options:
Subscribe to cloud-based services for quick and efficient delivery of a secure network.

Add network overlays like Ethernet VPN (EVPN)/Virtual Extensible LAN (VXLAN) to the existing infrastructure to enhance network capabilities.

Modernize WAN solutions with SD-WAN (Software Defined Wide Area Network)
2. AI-Powered Automation
Artificial intelligence for IT operations (AIOps) streamlines network management through automation. In fact, AIOps can help solve troubleshooting issues up to 90% faster, while reducing trouble tickets by 50% simply by seeing issues before the user does, according to Aruba Networks. These complex technologies handle tasks like optimization and troubleshooting, freeing your workforce for more complex operations.
If you're looking to implement AI, start small by testing solutions. Some vendors claim to have adopted AI in their platforms, but you will want to ensure their models have domain expertise and applicability across various organization sizes.
3. Security

In the era of digital transformation, modern data security threats are on the rise. To safeguard networks, businesses are focusing on enhancing their zero trust and SASE frameworks to close protection gaps and stay ahead of evolving threats.
When deciding on a provider, make sure SASE and zero trust frameworks are integrated with their solutions. Features like unified network access and security ecosystems are also important to ensure smooth integration into your existing environment.
4. Agility
As business objectives evolve rapidly, organizations need a highly-responsive network infrastructure to stay competitive and meet changing demands of users and the market.
To maintain an agile network, businesses should take time to:
Assess the capabilities and scalability of current cloud-native network management tools.

Adopt a versatile cloud-native service which can be deployed in the cloud and on-premises.

Read the fine print and pay attention to licensing terms to avoid lock-ins and forced upgrades.
By following these steps, you can build a future-proof network that adapts to evolving needs and requirements.
5. Flexibility
Most organizations have limited budgets and IT staffing shortages which make it challenging to acquire and manage new network solutions. NaaS offers a modern solution.
This feature lets you scale workloads and use the latest technology without huge upfront costs. Luckily, there are providers available to help you find the perfect NaaS solution for your organization without overspending or overloading your team.
Final Thoughts
Aruba Networks is leading the era of network modernization for businesses at all stages of their edge-to-cloud journey through their unique features, including:
Aruba ESP: A secure, AI-powered edge services platform that offers faster connections, scaling, issue resolution, and operational insights with a cloud-native approach
Aruba Central: Their management console, powered by AI-enabled insights and robust security features, streamlines network management and operations with a user-friendly single dashboard.
With support for Zero Trust and SASE frameworks, Aruba also provides full visibility and control across your existing infrastructure. A trusted IT solutions provider like WEI will guide you toward a network modernization solution that deploys network solutions in just minutes, not weeks.
Is it time for your organization to modernize networks? WEI understands the power of a modernized network to meet dynamic business demands. To create future-proof environments, we advise partnering with a provider experienced in agile networking. Contact us today to explore how Aruba's NaaS platforms adapt to your specific needs and benefit your business.

Next steps: Learn why HPE GreenLake is the next logical step in progressing from owning and maintaining physical assets and moving to a highly flexible and service-oriented approach for all network components. That includes computer, networking, storage, data protection, and so much more.