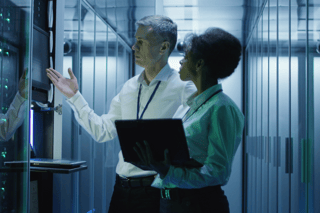 In today's hyper business climate, companies need to be faster and more agile in order to stay ahead of the competition. To keep up, IT decision-makers are looking for efficient ways to improve operations and reduce costs. Hyperconverged infrastructure (HCI) is a popular solution but comes with some compromises such as higher costs or limited built-in data protection. HPE SimpliVity offers an alternative that provides the same hyperconvergence experience without sacrificing performance. Keep reading to discover more about this revolutionary technology!
What Is HPE SimpliVity?
HPE SimpliVity is an innovative HCI solution that simplifies IT operations, from edge to core. As an all-in-one platform for general-purpose workloads and VDI applications at the edges, it offers scalability in deployment so customers can start small and grow as needed – a major benefit in a hybrid-heavy workforce. Its packed data services enable efficient resource utilization while reducing complexity and overhead costs.
Video: Cheers To Backup & Recovery As A Service With HPE
This platform also offers an easy-to-use, two-node, high-availability system with built-in data protection and hyper-efficient storage for edge sites and data centers – all at a 43% reduction of the total cost of ownership. With this HCI solution, businesses can simplify the management of virtualized storage and will enjoy unified control over all IT operations in one efficient system.
Benefits Of HPE GreenLake for HPE SimpliVity
HPE GreenLake is also transforming IT by offering managed services as a pay-per-use model. HPE GreenLake for HPE SimpliVity allows organizations to now build their own VM as‑a‑service platform with ease. Additionally, with HPE GreenLake Central, organizations can track capabilities for consumption and costs, and it is easier to accelerate the value of application deployments while avoiding costly upfront investments. This provides an excellent opportunity for digital transformation with no overprovisioning needed, which also saves enterprises 30% in CapEx savings.
Four Ways HPE SimpliVity Is Creating A New Standard For HCI
All-In-One Solution
With its all-in-one intelligent solution, HPE SimpliVity simplifies the deployment and scaling process, streamlines management tasks through software-defined infrastructure, unifies control systems, and automates policies. The best part? It is powered by AI for a truly seamless experience.

This all-in-one HCI solution also provides an easy and fast way to deploy virtual or container-based workloads across your environment. With its rapid deployment capabilities, zero downtime refresh cycles, and modular systems for scaling up as needed, HPE SimpliVity is the perfect solution for any business looking to quickly adjust their IT infrastructure in response to changing demands.
Furthermore, HPE InfoSight for HPE SimpliVity enables businesses to predict and diagnose infrastructure issues with powerful telemetry, machine learning capabilities, and automated alerts. It provides a multi-site view of all VMs and backups complete with insights on hardware and software problems and recommendations for corrective action. This reduces operational expenses and alleviates support needs.
High Availability With Two Nodes
HPE SimpliVity is designed to enable continuous operations while saving you money and valuable space. This is achieved by using just two nodes, reducing the number of appliances required along with a smaller data center footprint. Furthermore, it meets SLAs through protection against multiple failures and uptime across multiple sites, via stretched clustering technology.
Incorporated Data Protection
HPE SimpliVity is the perfect choice for data protection, guaranteeing resiliency and disaster recovery. It has powerful capabilities such as VM backups anytime and anywhere with a 1 TB restore in 60 seconds or less. Also, with its secure cloud bank backup options to reduce costs and risks, organizations can mitigate ransomware threats while enjoying maximum safety of valuable data.
Increased Efficiency
With the help of HPE SimpliVity, expect to experience frequent backups with quick restores in addition to longer retention periods and faster recovery times using lightweight VMs. This innovative HCI solution saves 90% of capacity on storage combined with guaranteed backup. Multi-site disaster recovery becomes more efficient due to a need for ten times fewer WAN links. This ultimately allows businesses to save money by reducing the amount of data sent over the network while minimizing expensive resources used within their data centers.
Final Thoughts
Organizations facing limited resources are turning to hyperconverged infrastructures as an effective solution for their business-critical applications. HPE SimpliVity is the perfect HCI tool that helps organizations save costs while meeting distributed edge requirements with ease. Get in touch with WEI today and consult one of our experts on how to reap the full benefits of a hyperconverged infrastructure.
Next Steps: WEI and HPE/Zerto recently welcomed Rachel Wilson for an exclusive IT security discussion. Rachel currently serves as the director of cybersecurity for Morgan Stanley Wealth Management and is a former NSA senior executive. Experts from WEI and HPE also provided data protection and disaster recovery options to help combat cyber threats to your organization, data, and self. Learn more by watching the full webcast below.