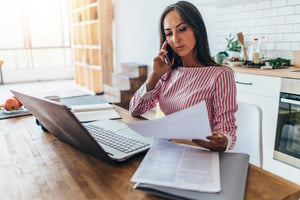 For IT, 2021 will be all about polishing and refining the strategies rapidly put in place to facilitate the employee exodus from the campus to the home. Remote workforces, once the exception, have become the new status quo. As the dust settles, many enterprises may find this temporary solution is now a permanent expectation.
Enterprise leaders would be wise to accept this change and pivot accordingly. For CIOs and their IT teams, this means taking a rocky remote infrastructure and turning it into a polished system that can provide the performance and availability employees expect, without compromising cybersecurity and data protection.
Why are remote workforces hard to secure?
As a direct result of the unique challenges of 2020, enterprises have an unprecedented lack of control over data. There have never been more remote workers, more employees utilizing personal devices, or more distributed data than what enterprises are seeing today.
Between ensuring compliance, combating the rise of "shadow IT," and keeping up with the strain created by quickly implemented, hurriedly constructed, and often expensive remote solutions, it's no wonder many IT teams are feeling overwhelmed.
This is the situation IT sees on a good day. What about when disaster strikes and whether due to a cyberattack or technology failure, data needs to be recovered and restored?
To keep business moving forward and set remote workers up for success, IT needs an integrated solution that, with a single management platform, offers backup and disaster recovery, intelligent storage, data protection for every device, and direct communication with solution experts when needed.
Ensure data protection with Dell EMC VxRail
To combat the challenges of securing data for remote workforces and offer all the functionality IT needs under one banner, Dell EMC and VMware have collaborated to present VxRail, the easiest and fastest way to implement a high-performance virtual desktop infrastructure (VDI) solution.
Built with hyperconverged infrastructure (HCI) at its core, VxRail was created to hold steady under VDI's I/O-intensive workloads and handle extreme burst conditions created when users log on and off. With market-leading second-generation Intel Xeon Scalable processors, vSphere virtualization, VMware vSAN software-defined storage, Dell EMC PowerEdge servers, and more, VxRail is a steady and comprehensive foundation for VDI.
On the data protection side of things, VxRail features highly redundant architecture, integrated Dell EMC data protection software, and nondisruptive updates, keeping data safe without interrupting productivity. In the event of a data emergency, VxRail integrates with RecoverPoint for Virtual Machines, offering quick operational recovery from disaster.
Best of all, it automates lifecycle management and boosts infrastructure security through VxRail's HCI System Software and offers a simplified remote management experience for IT.
Yes, you too can secure your remote workforce with Dell EMC VxRail
Whatever your enterprise's specific situation, Dell EMC VxRail can deliver the protection you need to keep your data safe, regardless of where your employees are physically located. Through the Dell Technologies extended client, server, storage, and data protection portfolio, enterprises can simplify management and reduce costs. Ask the experts at WEI for a demo and get the conversation started. We can help you understand how VxRail fits in your environment and develop a phased approach that ensures you see value and improvements every step of the way. Contact us to start a conversation!
NEXT STEPS: Find out why enterprise IT leaders run their business on Dell EMC VxRail in our tech brief, "Top Ten Reasons Why Customers Choose VxRail." Click below to start reading!