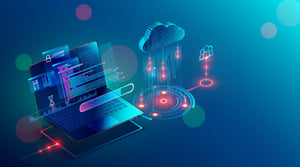 Unexpected events, from natural disasters to health crises, can necessitate workflow changes. Such an event, one that forces employees to work from home for their own safety, can often be the catalyst for the implementation of remote working solutions and technologies to ensure continued employee productivity.
In these situations, businesses who have planned ahead will create fewer disruptions for their users during the process of transitioning to remote working. However, enterprises that react quickly, decisively and with flexibility can still minimize disruptions and ensure business continuity by assessing their needs and implementing remote working solutions to support employees. Either way, actions taken today to enable your workforce to do their jobs remotely in case of emergencies will pay dividends down the line.
How to prepare for remote workforces
Many office-based employees may only need access to standard applications for things like email and word processing. However, for others, especially those employees with responsibilities beyond typical office work, there will be a need for access to specialized applications.
The first step to prepare an enterprise for the possibility of remote working is to create a list that accurately reflects critical applications that employees need reliable access to. IT's understanding of the impact of those applications outside the corporate network is imperative for continued business continuity.
Once an accurate list has been created, the next step for IT is to make note of the location of each application and its data, whether in a corporate data center or in a private or public cloud.
Knowing the dependencies for each, such as being tied to a corporate network for data or having client-device portability, will allow IT and enterprise leaders to create a plan regarding which devices will be allowed to connect to the corporate network. For example, many devices provided to employees, such as laptops, are often already fitted with VPN connections.
However, in emergencies, there may be cases where employees need to connect with personal devices, so it's important that IT has a plan to address such situations.
Once network security and application access have been addressed, the next step to ensure employee productivity for remote workforces is to plan for organizational collaboration and communication needs to be met. Many enterprises already make use of various communication applications for instant messaging; however, those applications may not be able to support an entire workforce abruptly switching to remote working.
Properly planning ahead by having backup applications or new communication procedures devised in advance, and then quickly communicating that to the workforce, can minimize confusion and keep employees connected and working productively in a crisis situation.
The final step to properly planning for remote working is to seriously consider the limited support that IT will be able to offer to remote workers, and address the biggest gaps possible. This is one of the largest questions regarding remote workforces, however, by reviewing options and being flexible to possible solutions, enterprises can ensure business continuity.
Support remote workforces with VMware Workspace ONE
For enterprises that require a way to simply and securely manage any application on any device, VMware Workspace ONE offers integrated access control, application management and multi-platform endpoint management in a single platform.
Available as both a cloud service or through on-premises deployment, Workspace ONE improves end user productivity by giving users a single place to launch apps, while also minimizing management costs and improving security.
IT staff can register any device requiring access to corporate resources and monitor it continuously, while also having the ability to isolate corporate information from personal applications.
With various Hub services, such as Workspace ONE People, a complete and secure employee directory, and Workspace ONE Catalog, which allows users to view, launch, and install all application types with a single sign-on, Workspace ONE allows employees to work productively no matter where they are.
For IT, Workspace ONE Notifications offer a convenient way to disseminate information to users regarding applications that are relevant to them. Additionally, users can respond directly on the notification and view them through the For You tab when logged into the Hub.
Ready for a single management platform for remote workforces?
VMware remote working solutions, such as Workspace ONE, will enable your remote workforce to be productive from the first day they are required to do their jobs out of the office. Enterprises can count on Workspace ONE's continuous verification of user and device risk to ensure network security, regardless of the location of your employees. Through the combination of intelligent insights and automation, Workspace ONE reduces the burden on IT and optimizes user experience. If you're ready to make the change now, contact WEI to begin building a custom solution for your business.