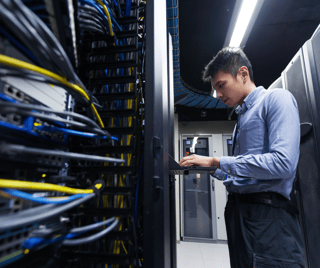 Picture yourself as the proud owner of a classic car, a vintage beauty you've painstakingly restored with a significant investment of resources. It's more than just a car; it's a symbol of your dedication. Data, like your classic car, is a business's most valuable asset. Just as you wouldn't leave the car exposed to the elements, you need to securely store and protect your organization's information.
You wouldn't just throw a tarp over your precious vehicle. You would place it out of the elements, away from opportunists who might see your car as an easy steal. Managing and maintaining mission-critical applications demands that same level of care and protection for your data. This is where HPE Primera comes to the rescue.
Unmatched Data Storage And Performance
When looking for a data storage solution, your enterprise needs to prioritize operational efficiency and cost-effectiveness. HPE Primera stands out by offering cloud-like agility, unified data management, and new standards for resiliency and performance in an enterprise storage solution. It possesses a set of features well-suited for the modern data center environment, such as:
Extreme Resiliency
HPE Primera provides a 100% Availability Guarantee to ensure your data's constant accessibility. Think of it like an easy-to-operate and reliable garage for your classic car. With automatic weekly updates and upgrades, downtime is minimal, and your data stays secure and intact.
Intelligent Operations
Investing in a vintage car demands a garage capable of proactive issue resolution. HPE Primera, powered by HPE InfoSight, an AI-driven intelligence platform, excels in this regard by resolving storage problems in real-time. This, in turn, reduces workloads and eliminates human errors to ensure continuous data safety.
Additionally, the HPE Primera OS offers advanced data services with simplicity and enhanced resiliency for mission-critical applications. Unlike monolithic operating systems (OS) that pose upgrade risks and necessitate node reboots, HPE Primera utilizes a services-centric OS which allows for independent deployment, upgrading, and restarting of each data service.
Timeless And Cost-Efficient Storage
HPE Primera provides guaranteed data reduction ratios at a flat support price, with a technology refresh every three years. This eliminates the need for costly upgrades and ensures businesses benefit from updated data storage technology.
Scalable Architecture
HPE Primera's modular design offers flexibility and customization for modern businesses. It seamlessly scales to meet evolving requirements, just as your garage flexes to store more tools that contribute to maintaining your car collection.
Its container-based architecture offers:
Streamlined multi-node configurations and provisioning.
Effective management of both traditional and next-generation applications.
As a result, these guarantee a seamless I/O for predictable performance and low latency.
Hybrid Cloud Capabilities
HPE Primera is equipped with the following features to manage and migrate various workloads, including:
Seamless integration and mobility of mission-critical apps (such as SAP HANA, VMWare, Oracle, and Microsoft SQL Server) to primary, secondary, and private/public cloud tiers like AWS, Scality, Google Cloud, and Microsoft Azure.
Fast data recovery. Businesses can restore data in mere seconds, rather than minutes or hours.
Security
HPE Primera prioritizes data privacy and compliance. By default, it encrypts your data and employs tamper-evident security measures to maintain data integrity. This system not only secures your data, but also actively detects and alerts you to any unauthorized access or tampering attempts.
Green Storage Solution
HPE Primera is not just a high-performance garage. With its Energy Star certification, the appliance operates with minimal carbon footprint and has lower cooling costs than other Tier 0 storage solutions.
Final Thoughts
As the volume of data continues to grow, managing and maintaining mission-critical applications for your business requires high-performing and resilient storage solutions. HPE Primera is a comprehensive service that seamlessly combines cloud storage's agility with high-end storage system performance and security.
This intelligent choice is perfect for businesses seeking efficient and reliable storage solutions. Whether you require a platform for intensive applications, hybrid cloud capabilities, data privacy, or energy efficiency, HPE Primera has you covered. Contact the storage experts at WEI and take the first step to secure your data and unlock your business's full potential.

Next steps: In the meantime, download our free tech brief, HPE GreenLake Provides The Full spectrum Of HPE Solutions.