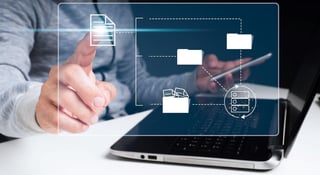 Enterprises modernizing their IT infrastructure to keep up with the demand of a changing workforce need more from their storage providers. With the work-from-anywhere model here to stay, an enterprise storage solution that offers on-demand, always-on, and easy-to-use services is a must.
As more enterprises move forward with their modernization efforts to support this shift in the workforce, agility is a key requirement of high-end storage. It is clear that the more purpose-built, statically defined scale-up designs of the past need to give way to more software-defined, modular scale-out designs.
Modern enterprises need a high-end storage solution that leverages AI/ML technologies, in combination with automation and continuous availability, to improve and simplify routine management tasks at scale. It is also important to be able to operate in hybrid cloud environments while also delivering a rich, secure storage management operating system.
There is one high-end storage solution that meets all these requirements and more: HPE Primera Intelligent Storage. Keep reading to learn 10 reasons why HPE Primera meets your enterprise's high-end storage needs.
10 Reasons Why Your Enterprise Needs HPE Primera Intelligent Storage
Global Intelligence: With HPE InfoSight embedded into HPE Primera, disruptions are predicted and prevented in real-time to help optimize performance.
Services-centric OS: Mission-critical apps benefit from reduced risk and enhanced resiliency with HPE Primera's simplified and unique OS for high-end storage without node reboots for most updates.
100% availability guarantee: Using artificial intelligence and machine learning, HPE Primera analyzes application patterns while also predicting and preventing disruptions across the infrastructure. The solution also provides business continuity with automatic site failover. With no disruptions, corruptions, or delays using app-aware resiliency across all models, HPE Primera provides a 100% availability guarantee.
Timeless storage: This all-inclusive software provides a unique ownership experience with unending value. You won't pay for additional features and enhancements, and the software will update every three years.
Radical simplicity: With HPE Primera, your time spent deploying, managing, and scaling your storage needs is reduced up to 93%. HPE Primera is able to tune itself and implement upgrades without slowing your ability to serve your customers.
As-a-service consumption: Using HPE Primera with HPE Greenlake offers you the ability to consume IT on your terms. Get exactly what you need when you need it with its ability to use high-end storage-as-a-service capabilities.
Intelligence and composability: HPE Primera's integration with HPE Synergy advances the cloud experience, providing a foundation of composability for any workload.
All-active architecture: Every volume within your storage architecture is able to access every SSD, node, and port, providing nonstop availability and low latency for fast performance at scale.
Extreme scalability: HPE Primera has made scaling high-end storage a breeze using multi-node transparent upgrades. Your storage needs are able to grow with the needs of your enterprise, intelligently adjusting to your unique business demands.
Hybrid cloud mobility: Extend your protection to the cloud. With less cost and complexity, HPE Primera's cloud mobility delivers:
Flash speed
Application-integrated data protection
Copy data management
Data mobility
Seamlessly, securely, and cost-effectively move your enterprise's data across primary, secondary, and private/public cloud tiers. With a simple cloud-based archive or disaster recovery option, you're able to use your on-premises infrastructure for fast, reliable operational recovery.
Ready To Redefine Your High-End Storage?
HPE Primera is redefining high-end storage to ensure that modern needs are being met as simply and easily as possible. Problems that plague more traditional storage systems, such as risky upgrades and complex management systems, are fixed through intelligent design to keep enterprises going strong through their modernization efforts. If you're ready to make the change now, contact WEI to begin building a custom solution for your business.
Next Steps: As the title of our refreshed executive brief eludes to, we have identified four smart storage strategies to help your company compete in today's digital world. Such strategies have already proven to help companies be better prepared for their new normal. Click here to read and download "Four Smart Storage Strategies To Compete In Today's Digital World."