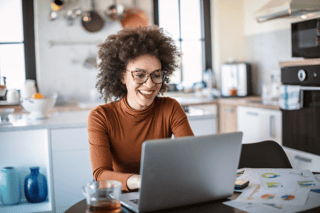 The way we work is changing. Traditionally, we went to an office and worked with our team in person, five days a week. But thanks to advancements in technology, that's no longer the only option. Increasingly, people are splitting their time between the office and home. This trend is called the hybrid work experience. And while it has many advantages, it can also be challenging from an end user perspective and an IT perspective.
That's where enhanced technology solutions come in. Providing tools that make remote and collaborative working easier ensures the hybrid work experience is seamless and productive for everyone. In this blog post, we further explore how enhanced technology solutions are improving the hybrid work experience and some of the benefits you can expect.
Improved Communication And Collaboration
One of the challenges of the hybrid work experience is maintaining effective communication and collaboration between employees who are in the office and those who are working from home. Enhanced technology solutions have made it easier for employees to stay connected and collaborate on projects, regardless of location. This is especially helpful since Buffer reported in 2021 that "nearly 60 percent of remote workers said their company operates in two to five time zones." Forward-thinking technology solutions allow organizations to improve communication and collaboration among their hybrid workforces.
Dell Technologies' recent product launch includes the Dell Optimizer. Its features are designed to meet the needs of collaboration, delivering improved audio quality for both the user and others on the call. Neural noise cancellation helps to reduce unwanted background noise (anyone have loud kids or pets at home?), while distortion reduction delivers louder output levels without feedback. In addition, the proximity microphone adds a brighter, clearer tone to speech, making it easier to be heard in noisy environments. These features can help make the hybrid work experience more efficient and enjoyable for everyone attending your virtual meeting/presentation.
Increased Flexibility And Productivity
Hybrid work also provides employees with increased flexibility and productivity. For example, a cloud-based document management system can allow employees to access files from anywhere, making it easier to work from home. By investing in such solutions, employers can make the hybrid work experience more efficient and effective for all involved.
Dell's portfolio, which includes the Latitude Family, Precision products, and more, is a new way of working that delivers an enhanced technology experience by combining the best of the office and remote workplaces. With Dell Optimizer, workers can connect to two wired or wireless networks at once for faster data transfers and downloads. It also delivers less buffering and up to 30% lower latency. Bandwidth management prioritizes conference apps while working from anywhere. Automatic network switching connects to a stronger network when one is available. These types of hybrid work experiences are designed to optimize employee productivity and collaboration while providing enhanced security and control.
Improved Security Measures
Security is always a concern when it comes to technology, but it becomes even more important when businesses adopt a hybrid work model. With enhanced security measures like two-factor authentication and data encryption, businesses can protect their data from being accessed by unauthorized individuals, whether they are in the office or working from home.

The hybrid work experience is the new norm, and Dell Technologies is at the forefront of this with its commercial portfolio that includes an integrated artificial intelligence (AI) software suite. This allows users to have a more intelligent PC with built-in AI, which comes in handy for the concealment of sensitive information if an onlooker or intruder is detected. In addition, the PC can automatically dim when the user looks away from the screen to protect data and conserve power.
Dell Technologies Enriches The Hybrid Work Experience
With the rise of the hybrid workforce, Dell Technologies has developed new products and features to address the unique needs of this increasingly mobile population. They have made it a priority to create a productive experience for employees who are constantly switching between in-person and virtual work. With the latest Dell commercial portfolio, IT teams are better able to select the necessary tools and technologies that enable employees to collaborate seamlessly, work intelligently, and stay secure. By providing enhanced technology solutions, Dell is helping to make the hybrid work experience more productive and efficient.
The hybrid work model is here to stay, at least for the foreseeable future. And with these enhanced technology solutions, businesses can improve communication and collaboration to increase flexibility and productivity, which can help you meet your enterprise goals.
Contact our experts today if your business would like to learn more about creating a holistic hybrid workplace solution. We have experience across all Dell systems and can help create custom solutions for your hybrid team.
Next Steps: Improve your hybrid work experience by downloading our tech brief, Optimize The Hybrid Work Environment With Privacy, Connectivity, And Collaboration.