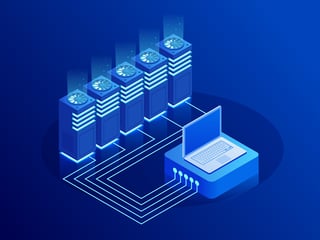 Has your on-prem virtual host environment become saturated? Many organizations don't want to admit to this, so here's a good truth indicator to help answer the question: If your IT team is forced to perform basic maintenance on your virtual host infrastructure during evening, night, or weekend hours because there is no capacity to bring down infrastructure components during normal business operations, your answer is probably yes.
Virtual Cluster Saturation
Virtual host saturation inevitably happens over time. A primary culprit is mission creep, which is where the goals, objectives, or scope of a project gradually expand over time. In professional sports, we see the reality of salary creep for athletes. In 2000, the average NFL quarterback made $1.9 million. Twenty years later, the average salary stood at $10.5 million for a 450% increase! But this salary rise is made possible through expansive league growth, rising team values, control over media markets, and the importance of finding a franchise quarterback to lead a team for the next several seasons.
This brings us back to the virtual cluster, and the mission creep is virtual machine (VM). Either the number of VMs increases over time or VMs are overprovisioned. There will come a day when an IT leader realizes that the virtual cluster that performed so well in 2016 will no longer suffice. That's not because the original cluster design failed to meet the initial requirements seven years ago. Rather, as time rolls on, business needs have changed, and workloads have expanded. The SQL report that took one hour to create in 2016 now takes twice as long in 2023.
Do You Take Your On-prem Virtual Cluster For Granted?
It's easy to take your virtual cluster for granted. It quietly does its job in the background. Outside of the system admins that support it, the virtual cluster ends up being largely forgotten. The cloud isn't like that. Cloud customers are reminded every month of their growing workloads when they see the bill come in. A slight uptick is instantly felt in the pocketbook while your on-prem VM cluster was paid for years ago.
However, while the growing saturation in your datacenter may not be fiscally expensive, it is costly in lost performance and missed opportunities. What's more, your business leadership may be oblivious to the saturated state due to the workarounds that your experienced system admins miraculously perform regularly. One day, there will be a reckoning in which a disruptive event occurs for which there is no available work around.
Is Your Virtual Cluster Designed for Perfection?
If your virtual cluster was professionally designed and implemented, it had slack built into it at one point. It contained vacant capacity that allowed system admins to perform firmware updates on a host server during business hours. Most hardware failures also did not disrupt business workflows because the cluster design was resilient thanks to excess capacity.
Unfortunately, now that your cluster hosts twice as many VMs than it did originally, your cluster is unintentionally built for perfection in the same way that an airliner overbooks its flights. In the case of the airline, the overprovisioning of customers on every plane often plays out fine in the end as there are usually a small number of passengers who never make their flight due to one reason or another. But then, occasionally, everyone does show up and that is when things get strained. Some customers must be enticed to give up their seat, which either costs money or causes customer dissatisfaction. Similarly, you might get away with the practice of overprovisioned resources on your virtual cluster, but eventually you get burned.
Other Reasons for Virtual Cluster Saturation.
VM creep isn't the only cause of virtual cluster saturation. Other reasons include:
Poor capacity planning due to unrealistic assumptions concerning workload growth.
Misconfigurations of component settings.
Persistent hardware failures due to aged equipment.
Insufficient resource allocation to service expanding workloads.
The Importance of an Optimization Assessment
A monthly bill isn't required to alert you of the oversaturation of a VM environment. You need an optimization assessment performed by a team of virtualization experts. WEI has a team of experts that can properly analyze your virtual environment to assess its ability to meet the workloads of your business. We can identify any discovered shortcomings and advise how to address them. Understand that assessment recommendations don't have to include new purchases. Often, a cluster simply needs a retuning as its original configurations cannot accommodate the modified workloads it must handle now.
In the same way that your vehicle requires scheduled maintenance, you should have an optimization assessment performed on a quarterly basis. This is even more critical today due to the highly dynamic nature of business today. Your business depends on your virtual cluster, so give it the respect and attention it deserves. Contact WEI today about an optimization assessment today. It is as easy as sending us an email and including optimization assessment in the subject to ensure prioritization.
Next Steps: WEI's Mark Gabryjelski, who has been practicing VMware since 2000, and ESX since 2002, explains in the video below why it is wise to regularly perform an optimization assessment on an enterprise's cluster infrastructure.