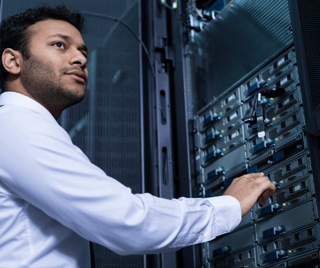 In today's highly competitive service industry, one of the most common issues IT professionals encounter originates from clients who fail to anticipate future needs. Fortunately, VMware has developed a solution: optimized cluster design. This feature maximizes performance and ensures IT professionals can successfully meet rising customer expectations and overcome fluctuating demand.
For example, your IT team might design a solution for a client to run 100 virtual machines (VMs), but after several years the customer upscales to running 400 VMs which results in lagging performance. While most organizations build a buffer for additional growth, many overlook the need to revisit the hardware supporting their workloads. For this reason, it is crucial to build a scalable solution that meets evolving needs for both the present and future. This is where an effective cluster design comes in.
Five Reasons Cluster Design Is Essential for Enterprises
Enhanced Security
When businesses distribute workloads across multiple systems, they can increase their resilience to unexpected and unauthorized access. At WEI, we understand the criticality of security and offer tailored solutions to streamline cluster design implementation. Our expert team has extensive experience in designing, deploying, and managing clusters across diverse environments, from small businesses to large enterprises.
Partnering with WEI enables your organization to protect your data while benefiting from the performance advantages of a clustered environment. We offer comprehensive training programs to upskill your team in system maintenance and management, along with ongoing support services to ensure optimal performance.
Increased Scalability
Cluster design is a highly effective solution for enterprises seeking improved scalability. This architecture utilizes distributed servers, allowing multiple nodes to work together to enhance system performance and capabilities.
This approach enables businesses to achieve greater scalability without major system changes, which facilitates the attainment of business objectives even in the event of individual component failure.
Redundancy
High availability and redundancy are critical considerations for enterprise systems, and leveraging cluster design can significantly improve reliability. This means that if one computer fails, the other nodes can take over its duties without service interruption.
Cluster designs are imperative for businesses with mission-critical operations that depend on uninterrupted system availability. Replicating data across multiple machines in this setup significantly reduces the risk of data loss resulting from hardware failure.
Improved Performance
Effective cluster design involves leveraging multiple physical servers to manage complex tasks, distributed computing needs, workloads, and applications. Improved performance is a key benefit, allowing businesses to adapt to changing application requirements and increase efficiency.
For businesses looking to grow or update their hardware, regular optimization assessments are crucial. These assessments provide valuable information within a week and real data on historical trends after 30 days. Regardless of the data center's lifecycle stage, WEI recommends conducting regular reviews – ideally quarterly – especially if there's a six-month forecast on hardware workload. This approach ensures the right cadence for business continuity, minimizes risks and prevents resource overgrowth to ensure alignment with your company's objectives.
Reduced Costs
Enterprises can maximize their cost-efficiency with a well-thought-out cluster design, which provides superior performance at lower costs by curbing unnecessary hardware and software expenses.
As a longtime expert on VMware's vSphere solution, WEI provides the services and solutions necessary for businesses to make clustering easy to implement and manage. Ultimately ideal for testing, development, and production environments, clustering dynamically allocates resources based on demand to ensure efficient resource utilization. Compared to non-clustered systems, properly clustered ones offer higher fault tolerance as they mitigate costly downtime.
Final Thoughts
Virtual environments are critical for work-from-anywhere business models. Whether it be hospitals, financial institutions, or a college campus, virtual environments are critical to end-user operability. In cases where workloads exceed intended capacity, leaders and system administrators must communicate effectively to guarantee efficient cluster design for VMs.
Administrators can leverage tools like WEI's assessment to overcome common challenges and recommend solutions. We offer optimization and VM right-sizing services that enable our clients to evaluate their current workloads and hardware capacity. Tuning your current environment not only enhances resilience and efficiency, but also provides leaders with the necessary insights to make informed decisions, maximize hardware investments, and achieve business objectives.
Contact us today and allow WEI to provide you with the tools and metrics you need to make informed decisions and improve your business operations.
Next steps: WEI's Mark Gabryjelski, who has been practicing VMware since 2000, and ESX since 2002, explains why it is wise to regularly perform an optimization assessment on an enterprise's cluster infrastructure. Listen to Mark identify why IT leaders are oversubscribing the resources they have for non-forecasted workloads and what he recommends to prevent this scenario.