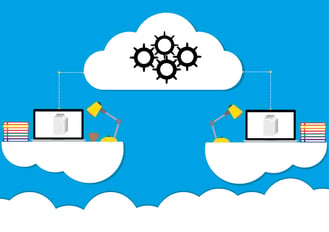 Recently, we shared four items to consider when preparing your data center to move to the hybrid cloud. Read on to learn about additional tips for a hybrid cloud deployment.
Item #1: Practice Due Diligence When Selecting a Hybrid Cloud Provider
Like any big business decision, you should carefully review the pros and cons of all available options. There are a number of public cloud service providers that can operate within a hybrid model environment, so there is no shortage of possibilities. Sometimes the nature of your data may dictate that you only work with a vendor that specializes in providing a hosting environment to fulfill compliance requirements and regulations. Circumstances such as these will limit your available options; as always, WEI is happy to help assess your unique situation.
You should also be sure to read the Service Level Agreements of all proposed providers and fully understand where the separation of responsibility and security lie between you and the provider. It's important to get all minimum performance and security expectations in writing.
Item #2: Select Your Hybrid Cloud Applications to Move
Before moving to a hybrid cloud environment, you must evaluate which applications are capable of fully operating in the new space. While some application types such as email or disaster recovery (DRaaS) are created with the cloud in mind, many applications are not. For example, if you are replacing server hosted applications with a cloud equivalent, you need to have a plan for how to decommission the on premise application once your users have fully transitioned to the new platform.
Item #3: Integrate Your On Premise Data Center Environment
Organizations may choose to go with a provider that can easily integrate with their on premise environment; this all depends on your circumstances. If your IT team already supports an established VMware virtual environment, then transitioning to a provider that offers vCloud Air will be a natural integration. For organizations firmly entrenched in Active Directory, an assimilation with Microsoft Azure may be more natural. However, you can also choose to incorporate multiple public clouds into your hybrid cloud strategy. Remember, one of the primary benefits and draws of the hybrid cloud is the elasticity and flexibility it offers; luckily, you don't have to stick to a single provider.
Item #4: Be Aware of All Hybrid Cloud Costs
The costs associated with transferring your data is extremely important, especially if you break your partnership at some point and want to migrate to a new provider. Be sure and obtain and review all of the associated costs up front from all potential hybrid cloud providers to gain a thorough understanding of how they establish their pricing. Pricing may be based on traffic, required storage space, server CPU time or a combination of these factors along with other elements. Costs will also depend on whether you demand bare metal servers or virtual ones. Billing should be done transparently so that you can track costs in real time alongside your provider.
Item #5: Learn How Your Data Will Be Uploaded and Managed
If you are migrating data or server resources to the cloud, your IT department will need to understand the service provider's upload process and how it is implemented. Your organization's on premise datacenter and the cloud itself may be securely locked down, but your data can be exposed during the upload process, leaving you vulnerable to security breaches. In most cases, this will involve some sort of VPN connection to encrypt the transfer process, so some vendors may provide a gateway storage appliance to handle data transfers both ways. If you are migrating some of your servers to the cloud, you may be required to manage each instance with a separate interface, while other solutions may allow you to manage your entire enterprise with a single VM.
Item #6: Test, and Keep Testing
Before you begin fully migrating your data and resources, it's important to conduct tests within a non-production environment; some vendors may offer a free trial period to do this. Testing will give you a chance to not only become familiar with the interface of the product, but also discover any limitations or potential obstacles in working with your on premise environment. For advice on test driving cloud services, see this blog post.
These are just a few of the precautions to prepare for before hybrid cloud deployment. Contact us today to get started.