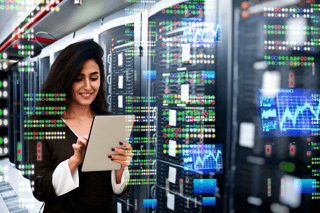 The needs of IT infrastructure continue to change due to emerging technology such as artificial intelligence and more. These powerful applications can completely transform infrastructure in a short period of time, making it necessary for enterprises to have flexible solutions to keep up. While utilizing the public cloud can be a viable option, it may not help solve the needs of IT infrastructure. Read on to see how composable infrastructure can assist in simplifying management and increasing IT agility.
The Basics Of Composable Infrastructure
The main goal of composable infrastructure is to help enterprise data centers use their physical infrastructure to make deploying new applications a more efficient process. Ultimately, this means administrators don't need to take the time to physically configure hardware for software application support. As HPE formally explains: "In composable infrastructure, compute, storage, and networking resources are abstracted from their physical locations and can be managed by software through a web-based interface. Composable infrastructure makes data center resources as readily available as cloud services and is the foundation for private and hybrid cloud solutions."
The Advantages Of Composable Infrastructure
There are numerous benefits to composable infrastructure. From business acceleration to simplicity, composable infrastructure can boost IT productivity and optimize assets. Flexibility and agility are also important benefits for modern enterprise data centers to quickly configure hardware and help prevent constrictions.
Composable systems increase flexibility by making it easier to scale individual resources. These systems also increase agility due to deploying workloads without the worry of what the underlying infrastructure needs to look like. Additionally, they can quickly align key business goals to drive organizations forward. Since the IT landscape is constantly increasing, it's vital for IT teams to deploy infrastructure that keeps up with ever-changing technology and make it easier to integrate innovations as they are released.
HPE Composable Infrastructure
Many enterprises have chosen to migrate their IT infrastructure to HPE Synergy. Their composable software-defined infrastructure service is ideal for hybrid cloud environments. It assists data centers in composing fluid pools of physical and virtual resources into any configuration for any workload. HPE Synergy deals with resources as a service that can be deployed to applications nearly in real-time, ultimately removing the need to configure hardware.
As stated above, the HPE composable infrastructure platform is composed of architectural elements such as storage, compute, management, and fabric resources that when brought together can bring many benefits to organizations. Let's go over these four assets that are critical for composable infrastructure.
Composable Storage
HPE Synergy offers a high-powered, highly scalable storage system that supports file, block, and object-based storage systems. It also supports both internal and external storage components for your mission-critical applications.
Composable Compute
In this HPE system, compute modules deliver optimization in CPU and memory density, improved performance, scalability, simple storage, and configuration flexibility. All of these benefits enable a variety of workload support.
Composable Management
HPE Synergy offers two management elements that admins can use to manage workloads that are running in the environment. The first is HPE Synergy Composer. This allows you to deploy, monitor, and update infrastructure through its life cycle from one interface. The second element is HPE Synergy Image Streamer. This speeds up the deployment of a standard operating system through a straightforward and reliable process of the image payload.
Composable Fabric
This HPE composable infrastructure resource is extremely helpful for critical yet challenging fabric components. It supports rack-scale multifabric connectivity, eliminating the need for standalone switches. Overall, this improves performance, lowers costs, and simplifies life-cycle management. It's very helpful in supporting storage workload needs.
Conclusion
Whether your business runs next-gen applications with dynamic supply demands or you work with traditional workloads, composable infrastructure will benefit your business. Composable infrastructure is not only an important opportunity for data center architects, but it helps organizations simplify IT infrastructure by building fluid resources that can support any workload with less cost and increased IT efficiency. If you'd like to accelerate your business or learn more about HPE composable infrastructure, contact our IT experts today.
Next Steps: In the meantime, view and download our free and informative checklist, "Preparing Your Data Center for the Hybrid Cloud."