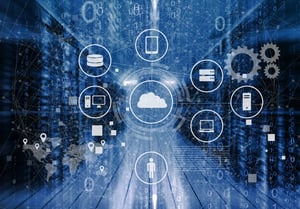 The ongoing evolution of infrastructure technology has created a host of different options that enterprises can chose from. However, the introduction of software-defined infrastructure (SDI) offers flexibility that other options, like traditional and converged infrastructure approaches, can't match.
In addition to added flexibility, composable infrastructure can simplify management, save on data center space, and improve infrastructure efficiency.
What is composable infrastructure?
Unlike traditional hardware-defined infrastructure, software-defined composable infrastructure can be managed simply with software, including compute, storage and networking. Additionally, managers have the ability to migrate between configurations without downtime.
As explained in this report from Gartner, when compared to other infrastructure types, such as hyperconverged and programmable infrastructure, composable infrastructure offers:
Increased flexibility and speed when delivering bare-metal server and storage systems
An improved ability to accommodate shifting or unidentified workloads
Amplified efficiency in resource utilization
Composable infrastructure can also coexist in data centers with other types of infrastructure, such as converged and hyperconverged systems, allowing it to be integrated into existing infrastructure.
According to Gartner, composable infrastructure works well when:
Environments where servers and storage must be resized often
Resource consumption is unpredictable for workloads
High-cost hardware components like GPUs or NVMe storage are required
There is a high degree of automation for existing infrastructure
Self-service resource deployment, or other aspects of becoming a service provider are on the horizon for IT
How to find the right composable infrastructure solution for you
Despite the overall benefits of implementing composable infrastructure, it's still important to find the right solution for your enterprise. As with any IT solution, there are a number of factors to consider when making a selection.
First and foremost, ease of use should always be considered. Does the solution's environment sync well with your needs? Will your IT team be able to effectively manage the solution, and will it simplify your IT environment? If the answer is no, then that particular option is probably not the best for your enterprise.
Future-proofing capabilities are also important to prevent major disruptions from infrastructure upgrades. Does the solution offer the type of scalability that your enterprise will need after several years of growth?
IT should also consider optimal storage integration when weighing a composable infrastructure solution. Solutions which integrate storage management into the infrastructure are ideal.
Finally, consider deployment speed. If a solution will take longer to implement due to your enterprise's specific needs or scale, prioritize finding an alternative that can be ready when you need it.
Composable infrastructure with HPE Synergy
HPE has pioneered composability, offering solutions that support independent scaling and on-demand provisioning.
HPE Synergy, enables enterprises to compose fluid pools of physical and virtual compute, storage, and fabric resources into any configuration, offering increased efficiency, control and the ability to quickly deploy IT resources through a single interface. HPE OneView, which powers Synergy, sets the foundation for workflow automation and a comprehensive partner ecosystem.
As seen in case studies, HPE Synergy benefits enterprises by increasing the rate of project implementation, it avoids high start-up costs, and supports simple, cross-border cooperation.
HPE has also integrated HPE Primera and HPE Composable Rack with Synergy, offering customers increased agility and the ability to support applications and service level agreements with cloud-like agility and seamless scalability.
Ready for a complete SDI solution?
HPE composable infrastructure solutions, such as HPE Synergy, can power any workload in a hybrid IT environment. It offers a single infrastructure that can support both current- and next-gen applications, which typically require vastly different infrastructure requirements. Costly silos and allocated resources can be mitigated and IT operations can be simplified through the use of Synergy for physical, virtual, and containerized workloads. If you're already planning an infrastructure upgrade, or you simply want to better understand how HPE Synergy will fit in your environment, contact WEI today.
NEXT STEPS: Read on about the benefits of composable infrastructure in our white paper below.