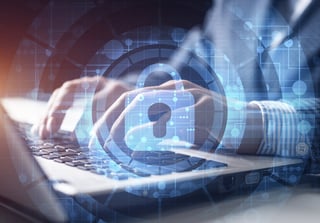 At the beginning of the pandemic, many enterprises anticipated only needing remote teams for a few weeks to maybe a couple of months. Now, two years later, it's clear that remote and hybrid workforces are here to stay. Enterprises and employees have seen the benefits of this environment, but in order to continue supporting this model, IT teams need to consider long-term solutions to enterprise cybersecurity initiatives.
Educate your workforce and manufacture a culture of security. One of the best things you can do for your enterprise cybersecurity measures is to foster a culture of security. Don't rely on once-a-year training. Instead, take a proactive approach with your teams. Engage in regular discussions, use humor, and be relatable. Your team is your first line of defense. If they're on your side, it'll be much easier to deploy new protocols.
Implement MFA as an important step toward zero trust. In order for your hybrid workforce to be successful, they need to be able to access job-critical information no matter where they are working from. Unfortunately, this opens the door to vulnerability. In fact, research shows that 80% of breaches are linked to stolen credentials. One way you can combat this is to implement a multifactor authorization protocol as part of a broader zero trust strategy.
Build enterprise cybersecurity into the way users access information, leveraging the cloud whenever possible. By combining a VPN with a SASE approach, you're able to secure access to applications and maintain enterprise security with a distributed hybrid workforce. By using SASE with a VPN, you can leverage the benefits of the cloud, such as scalability and simplifying the IT environment, with the encryption that private networks provide.
Secure Office365 email against advanced threats. Email is one of the most vulnerable areas of enterprise cybersecurity. With so many users now operating in a hybrid environment, this exploitable population is more available than ever. Using a Cloud Mailbox Defense allows you to supplement your native email security measures to deliver complete visibility of inbound, outbound, and internal messages.
Maintain a first and last line of defense with DNS and endpoint security. As part of your enterprise cybersecurity solution with a hybrid workforce, it's critical to maintain a multilayer approach that maintains a first and last line of defense to block malicious behavior and prevent more advanced threats from coming through. With cloud-based controls, securing remote workers is made simple and allows you to scale up and down as your needs change or add functionality as you go.
Ensure Enterprise Cybersecurity With Cisco
To make securing hybrid workforces easy, the Secure Remote Worker solution from Cisco unifies user and device protection at scale to provide complete enterprise cybersecurity. Through a combination of Cisco Secure Access by Duo, AnyConnect, Umbrella, and Cisco Secure Endpoint, this integrated solution provides IT with the visibility and control to ensure security, regardless of where your employees are working from.
Are You Interested In Cisco's Remote Workforce Security Solutions?
Cisco's remote workforce security solutions are built to create a simplified experience, which reduces complexity and strengthens operations. With products ranging from email security to next-generation firewalls, you can feel confident your hybrid workforce is protected along with your most vulnerable data.
NEXT STEPS: To help create a better, well-rounded security posture that protects your enterprise and hybrid workforce, our tech brief "Secure and Reliable Remote Workforce Solutions From Cisco Meraki" outlines everything you need.