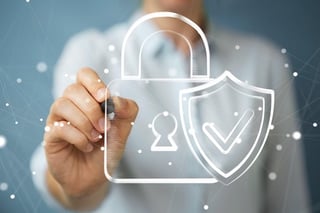 Data drives today's world. The push toward digital transformation at the onset of the COVID-19 pandemic brought an increase in the volume and value of data across interconnected networks. Moving data digitally allowed enterprises to adapt to a more remote environment, but it has also made data more available to criminals looking to exploit weak points within the architecture. To further illustrate this fact:
A cyberattack occurs every 39 seconds.
71% of breaches are financially motivated.
Cyberattacks account for $5.2T of global risk over the next five years.
68% of business leaders state their cybersecurity risks are increasing.
69% of businesses lack confidence that they could recover all business-critical data in the event of a cyberattack.
Although cyberattacks take many forms and attackers have a variety of motivations, their goals remain the same: destroy, steal, and ransom your enterprise's valuable data for financial gain, social, or political purposes. As the world becomes more digitally connected, so do cyber criminals.
The threat of cyberattacks and the importance of maintaining the confidentiality, availability, and integrity of data requires modern solutions and strategies to protect vital data and systems.
What is Cyber Recovery?
Traditional Disaster Recovery (DR) and Business Continuity plans are no longer enough to protect your enterprise effectively. So, what can you do? Our advice is to invest in Cyber Recovery, sometimes called Isolated Recovery. This new data protection solution is designed to address the modern threat of ransomware and other cyber threats. It can limit the spread of malware and reduce the surface of attacks globally.

Dell Technologies has designed a cyber recovery solution, PowerProtect, that provides your enterprise with the protection it needs in today's data-driven environment. It features a secure digital vault that is physically and logically isolated from your product and a backup network with an operational air gap.

Your most essential data is protected within the vault in an immutable format with retention periods locked. With this cyber recovery solution, you have the best possible chance to restore your data if your primary backups have been compromised or your DR location has been breached or infected.

When attackers strike your systems, data, and backups, they encrypt the backup catalog in addition to the systems and data. Traditional disaster recovery solutions are online and not isolated to the degree a cyber vault is. This makes disaster recovery vulnerable to cyberattacks. An air-gap cyber vault solution ensures that a protected copy of mission-critical data is kept in its original form. What this also means is that your enterprise avoids the need to manually recover the last backups without knowing if they are acceptable or not.
10 Reasons Why Your Enterprise Needs Dell PowerProtect
Using a cyber recovery solution like Dell Technologies PowerProtect can save your enterprise significant time and money. Here are ten reasons why.


Dedicated hardened digital vault with a physical and operational air gap.
Protects against insider attacks by requiring multiple separate log-ins to access the vault.
Data written to the vault is immutable and unchangeable.
Malware may enter the vault but cannot execute or infect data outside of the vault.
First to integrate full content indexing, intelligent analytics, machine learning, and forensic tools.
Quickly identifies and restores the last known good file or data set for rapid recovery.
Full recovery workflow automation to quickly resume business operations.
Solution Provider in the Sheltered Harbor Alliance Partner Program.
First technology provider developing a Sheltered Harbor turnkey data vaulting solution.
Single source for solution design, implementation, and support for Cyber Recovery, CyberSense, and Sheltered Harbor solutions.
Conclusion
Dell Technologies PowerProtect cyber recovery solution provides your enterprise with the protection it needs in today's data-driven environment. Contact WEI today for guidance on the best solution for your enterprise that will protect your most valuable assets in the event of a cyberattack.

Next Step: Discover more about refreshing your servers and enhancing digital transformation by downloading our tech brief, Accelerating IT Modernization with Server Refresh.