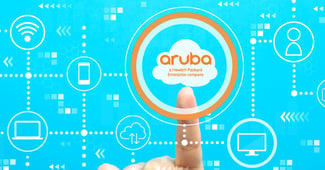 The cloud has revolutionized the way enterprises do business on every level. For IT, cloud brings some complexity to network operations and infrastructure management.
Whether it's at the campus, branch, or a remote location, end-users and internet-of-things (IoT) devices are connecting to and accessing the cloud network, creating a complicated interconnected web. As the enterprise grows, the cloud network requires more time and resources to manage.
To combat this complexity and make a cloud-managed network straightforward, Aruba developed Aruba Central, a cloud-managed networking solution that features artificial intelligence (AI) powered insights, automation for workflows, and comprehensive security. With this solution, IT teams are able to manage and optimize the entire network environment from a single dashboard, regardless of the location.
Simple network administration
Aruba Central's foundation is its simple and easy to use interface, which offers everything IT teams need to manage day-to-day operations. This includes direct access to manage network and security infrastructure and configuration, adding or removing devices or licenses, as well as managing integrations with existing IT systems.
This uncomplicated, single-pane-of-glass system saves time and reduces the training that IT teams need to effectively use the solution.
Aruba Central also saves time when it comes to adding network devices, which is an important, but typically complex task. With Zero-Touch Provisioning, an easy setup wizard, and an integrated installer app, onboarding becomes a faster, streamlined process.
Comprehensive management options
When it comes to ongoing management, accurate and timely data is key to ensuring network health. For this reason, Aruba has prioritized visibility and granular control.
From the primary dashboard, IT can access a global or specific site view of all managed devices, as well as a detailed list of device usage, utilization and RF noise, WAN uplink, and tunnel status.
To provide real-time visibility and alerts into the health and status of the network, Aruba Central utilizes advanced AIOps for AI-based insights. Over time, the insights will leverage the growing pool of network data for contextual-based observations.
In the event of a problem, the solution quickly identifies and characterizes the issue, providing context-based information and troubleshooting options. Aruba Central also offers comprehensive reporting options that include device connectivity, network health, and user activity. IT teams can schedule reports to be run that highlight any area, including device and client inventory, activity auditing, and more.
As a result, Aruba Central provides the consistent, reliable, and timely information IT teams need to support a cloud-managed networ throughout the enterprise.
Aruba Central Cloud Reliability
As with all its products, Aruba prioritized the user experience when designing Aruba Central. The solution offers enterprise users high availability through:
Web-scale database design, which ensures a responsive performance regardless of the data load.
Service redundancy, with data centers worldwide available for hosting.
HTTPS connectivity, with certificate-based authentication.
By utilizing Aruba Central, enterprises can ensure employees have access to the network whenever they need it for whatever task they need to be completed, improving productivity throughout the enterprise and pushing the business forward.
Aruba Central for the Remote Workforce
With today's distributed workforces, enterprises everywhere need to deliver in-office user experiences to remote workers in whatever location they may be in. Aruba Central supports this goal through a number of key features.
These features include over-the-air software and configuration updates and on-demand IT software and services.
Aruba Central's single-pane-of-glass management system and the scalability offered by the solution pairs with other solutions offered by Aruba, such as Aruba ClearPass, Aruba SD-WAN, and Aruba Access Switches, to build and support a cloud-managed network for distributed workforces.
Are you interested in Aruba Central for cloud-managed networking?
Regardless of your enterprise's specific situation, Aruba can deliver the reliable, secure, and simple cloud networking experience your employees and IT team need to be successful. Aruba Central also integrates with the rest of Aruba's portfolio, allowing enterprises to utilize these integrations to create the cloud environment that works best for them. The Aruba experts at WEI can show you how Aruba Central can work for your business, just contact us today!
Next Steps: Do you want to improve the remote working experience for your employees? Aruba provides every solution you need to keep your employees productive from wherever they work. If you are looking for ways to improve the remote working experience for your employees, you might be interested in our tech brief, "Provide Secure Remote Connectivity with Aruba Remote Access Points." Click below to start reading.