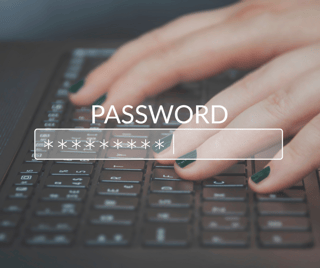 How many accounts do you log in to every day that require a password? Chances are there are quite a few with banking, health portals, shopping, email, and gaming among the common account types. As more enterprises move forward with their digital transformation efforts, password use will only increase. With the shift to a digital presence, customers, vendors, and employees will eventually need unique account credentials to access the information they require – adding yet another password they must memorize.
Unfortunately, people are creatures of habit and tend to reuse the same passwords for multiple accounts. This can mean important information that needs to be protected is potentially at risk of exposure if an account using the same credentials is hacked. If one falls, they all fall so to speak.
As more enterprises move to a decentralized environment working remotely, it is critical to ensure that the right people securely access the information they need without putting your organization at risk. is critical.
So, what is the answer? It may sound ironic, but it has to do with eliminating passwords altogether and moving toward passwordless authentication to access data.
Secure Passwordless Authentication Is The Future
When it comes to multi-factor authentication, passwords are the weak link in account access security. Tech leaders have realized this, and many have started ditching passwords altogether in favor of simplified methods that provide greater protection. Here are three reasons why passwordless authentication is the future.
Better user experience: Passwordless authentication saves users from the frustration of having to remember yet another account's details and consequently being locked out.
Saves time and money: When users are not required to recall another password, your IT team is not bogged down on Help Desk tickets asking for assistance accessing or retrieving account information.
Stronger security: When your system no longer relies on the human vulnerability of passwords, you eliminate related threats, including phishing, stolen or weak passwords, password reuse, brute-force attacks, etc.
Cisco Paves The Passwordless Path
Passwordless authentication is a key building block to enabling zero-trust security for the modern workforce, allowing for better agility and productivity within your enterprise. Passwordless authentication improves the workforce's experience while strengthening trust in authentication – a critical step in establishing a zero-trust architecture.
With a combination of user and device trust driven by adaptive policies, you can rest assured that the right people are able to access the information they need without sacrificing security. Each user connected to a service is authenticated, and the device is authorized against a policy, regardless of where the request comes from.
Cisco Duo is leading the charge toward a passwordless authentication future through dynamic multi-factor authentication. It sets identity as the parameter for secure access. To make this a possibility, Cisco is:
Building a passwordless authentication solution that is easy to implement and use.

Partnering with hardware and software providers to provide best-in-class experiences regardless of a company's infrastructure or technology stacks.

Supporting FIDO2 security keys for major browsers.

Having Duo experts in the WebAuthn Working Group, W3C, and FIDO Alliance to advocate for enterprise features.
Now is the time to prepare your enterprise for the passwordless authentication future. Lean on WEI's extensive experience with Cisco security solutions to help you determine the best path forward to reaching a passwordless solution. Contact us today.
Next Steps: To learn more about agile network security solutions and services for your enterprise, download our Tech Brief, "5 Critical Questions You Need To Answer Concerning Your Cybersecurity Strategy."