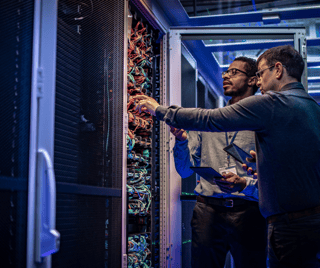 As the leader in the virtualization landscape, VMware introduced vSphere 8 Update 1 in April 2023. With its impressive improvements in security, automation, and storage, the new update prioritizes stability and expands on the groundwork of vSphere 8. This means customers can expect a seamless approach to VM management and improved cluster design that will not require new license keys. After a recent conversation with VMware expert Mark Gabryjelski, we identify and summarize our findings of Update 1.
Key Features Of vSphere 8 Update 1
Although most customers typically wait for the first major patch before upgrading, there are three key features in this latest update that have already proven to drive efficiency and unlock new potential for enterprise VMs. After all, it is the best of the vSphere releases to date for running cloud-native and on-premises workloads.
1. Simplified Lifecycle Management
Prior to vSphere 8 Update 1, vSphere Lifecycle Manager (vLCM) only supported standalone ESXi hosts through by vCenter using vSphere APIs. Now, with Update 1, standalone ESXi hosts don't just have the full vSphere Client support, but users can compose a desired image, remediate, check compliance, and more. All these functions make it possible to perform all vLCM functions on standalone hosts that were limited to the vSphere clusters mentioned above.
2. Improved Security And Identity Management
Update 1 allows administrators to define custom image depots for standalone ESXi hosts, addressing potential remediation issues caused by high-latency connections between hosts and vCenter. With these improvements, vSphere 8.1 provides the same level of control and efficiency as managing vSphere clusters.
To further enhance the security and compliance features of vSphere 8, the new update now incorporates Okta identity federation support for vCenter and improvements to ESXi Quick Boot. With this support, enterprises benefit from modern cloud-based identity management and multifactor authentication through the safekeeping of user credentials separate from vSphere.
3. Empowering Workloads With AI And ML
While not all businesses utilize artificial intelligence (AI) and machine learning (ML), Frank Denneman emphasizes the importance of accommodating critical on-premise workloads. Fortunately, vSphere 8 Update 1 is equipped with more capabilities such as improved GPU assignment and workload scalability. These upgrades enable businesses to efficiently manage larger workloads as needed and leverage the potential of AI and ML technologies.
It's important to note the availability of these capabilities depends on if your enterprise is using a public cloud and if the vendor offers these options. While most public cloud vendors are transitioning to vSphere 8.1, the inclusion of physical GPUs in the public cloud will vary based on the hardware offerings of each provider. Therefore, enterprises should ensure their cloud provider supports the necessary hardware capabilities.
Integrating vSphere 8 Update 1 To Your Existing Cluster Design
From the perspective of a vSphere software administrator, Update Manager has been renamed to vSphere Lifecycle Manager. However, from the VMware perspective, they are still maintaining two separate products: vSphere Lifecycle Manager and Update Manager. This is important because there is the belief that there will no longer be Update Manager available in vSphere 9. This changes the way admins add and maintain hardware that belong to the same vSphere cluster. Challenges could occur when scaling and maintaining hardware within the same cluster due to firmware differences.
To adapt to these changes, Mark Gabryjelski recommends maintaining homogeneous clusters with identical hosts and resources by using the following best practices:
Plan out your VMware clusters and membership. Different generation clusters cannot use the same driver. While purchasing equipment is important, you must also consider the hidden soft costs associated with maintaining the environment.
Instead of replacing old hardware, acquire new clusters and migrate workloads. This may alter infrastructure management but ensures compliance with the new rules, designs, and physical characteristics of servers.
Fortunately, vSphere 8 Update 1 streamlines updates for administrators, especially those still using vSphere 6 or having just transitioned to vSphere 7. When it's time to upgrade to vSphere 8 and future versions, like vSphere 9, these approaches will better support the best practice of homogeneous clusters with identical hosts and resources.
Final Thoughts
Staying current with the latest vSphere releases guarantees businesses will leverage the full potential of their VM environments. VMware's vSphere 8 Update 1 marks a major milestone in simplified management, enhanced security, and advanced workload capabilities to meet customer needs and improve operations.

If you are looking to upgrade and scale your VMs and workloads, WEI recommends embracing this new update to stay competitive and achieve greater business efficiency. As always, it is important to seek guidance from a reliable IT solutions provider to carefully plan and implement such upgrades to ensure a smooth transition and maximize the benefits of vSphere 8 Update 1.
Next Steps: WEI's Mark Gabryjelski, who has been practicing VMware since 2000, and ESX since 2002, explains in the video below why it is wise to regularly perform an optimization assessment on an enterprise's cluster infrastructure.