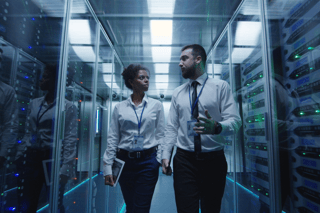 Almost every enterprise has accumulated thousands of digital files over the years. Everything from customer records to logo graphics is data that needs to be stored in a secure, easy-to-access place. As organizations embark on their digital transformations, it's important to think about storage infrastructure enhancements to reduce costs while optimizing company performance and security. Companies should consider data storage solutions such as HPE Nimble Storage to help reach this goal. Let's cover exactly what it is and five reasons why companies should use this particular data storage solution.
What Is HPE Nimble Storage?
HPE explains, "HPE Nimble Storage is a flash-optimized, intelligent, self-managing storage portfolio that delivers the simplest storage experience with enterprise functionality." This data storage solution utilizes innovative technology to keep continuous track of your IT infrastructure while also protecting your organization from cybersecurity risks.
Nimble Storage has three main products that include all-flash arrays, adaptive flash arrays, and secondary flash arrays. Powered by artificial intelligence and machine learning, Nimble Storage can make systems quicker and more reliable to assist with the IT needs many organizations have. IDC states: "HPE customers are realizing significant value by utilizing HPE Nimble Storage to improve their IT agility and application performance and availability. These benefits are worth an average of $3.06 million per year, which would result in a five-year ROI of 487%." Those statistics alone are some of the many reasons Nimble Storage is an excellent data storage solution for businesses.
Five Benefits Of HPE Nimble Storage
Nimble Storage, along with Nimble Storage dHCI, is designed to provide flexibility and consistency for enterprise storage, especially for those with varying IT needs. Here are the key benefits of HPE Nimble Storage for modernizing your data storage infrastructure.
Enhanced Business Performance
Nimble Storage delivers fast, reliable IT support as common issues that pop up across IT environments can be typically solved. This data storage solution compares your issues with previous ones to resolve problems, allowing you to avoid downtime. IT leaders know that downtime impacts both IT and the enterprise, so it is reassuring to know that Nimble Storage can reduce unplanned downtime by 69%.
HPE Nimble Storage also automatically predicts and resolves 86% of problems before you even know they exist. This will give your IT team time to focus on more important projects. This gained agility leads to improved performance and better business productivity.
Lower Costs
HPE Nimble Storage can help organizations find significant cost savings through its adaptive intelligence. It lowers the cost of operations since it offers an on-demand, pay-as-you-go service instead of large upfront payments. Your data storage budget can be aligned to usage, saving you money in the long run. In fact, this data storage solution shows impressive numbers such as a 49% reduction in the total cost of operations.
Improved Security
Nimble Storage is powered by InfoSight, which is a cloud-based platform that checks systems for any possible security or downtime issues. This proactive AI cybersecurity service helps you identify any vulnerabilities before they affect your business. HPE reports that 86% of issues detected are automatically resolved without the need for additional IT support. This ultimately lowers risk and boosts the efficiency of your IT infrastructure and work performance.
Flexibility
The HPE Nimble Storage is a unique platform with a scale-to-fit architecture that allows customers to scale up performance and capacity independently. Not only can this data storage solution scale up, but it can also scale out. This means your data storage can have improved performance and capacity. This flexible platform gives organizations the option to add or remove resources as they see fit.
Streamlined Process
Implementing HPE Nimble Storage lets your IT team access data whenever it's needed. In fact, it has a 99.9999% availability rate for that purpose. This platform also has one of the quickest provisioning times, allowing your organization to set up your storage selection almost instantly so you can resume operations as soon as possible and expand your IT environment faster.
Conclusion
With HPE Nimble Storage, you don't need to deal with unexpected data storage surprises such as unplanned downtime and expensive support costs. Organizations can have high expectations with lower costs and improved performance. This efficient data storage solution can help IT teams devote more time to innovation.
If you are looking to change your data storage system, contact WEI today. Our team of professionals can work with you on finding which data storage solutions your business needs, as well as go over how Nimble Storage solutions may be the perfect fit for your enterprise.
Next Steps: AI is an important aspect of data center modernization. Download our tech brief titled, "How AI in the Data Center Closes the Loop on Digital Transformation" to learn how AI can enhance your IT environment.