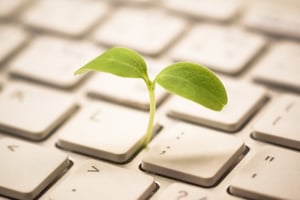 April 22nd is Earth Day, but in the face of a rapidly changing world, one day to focus on being environmentally friendly isn't enough. That's why WEI continues to embrace its corporate responsibility and weave sustainable practices into the framework of the business.
Implementing sustainable business practices and environmentally friendly solutions includes working with vendors who share our values and embrace the mission of a greener future.
HPE Certified Pre-owned Products Are Environmentally Friendly
Driving innovation and reliability in your IT infrastructure doesn't always mean relying solely on new technology. You may be able to use a combination of both new and legacy equipment. Utilizing previous generation technology not only keeps it from the landfill, but is perfect for a variety of business scenarios like:
Extending the life of legacy applications by replacing hardware with the same vintage required by some mature software applications.
Supporting business continuity or disaster recovery plans by creating a replica of the original infrastructure.
Build an isolated test environment to safely model configuration changes before rolling them out to the main infrastructure.
Supporting appliances and systems beyond manufacturing life, like appliances, control systems, and other solutions that include embedded previous-generation products.


Pre-owned Products Are Part of HPE's Environmentally Friendly Circular Economy Model
This year alone, the amount of e-waste generated around the world is expected to be about 50 million tons. Keeping hardware running for longer is just one portion of HPE's Circular Economy model, which is designed to help IT achieve both business and sustainability goals.
The Circular Economy is an environmentally sustainable strategy built around three key principles:
Design out waste and pollution. This means creating products that work and last longer, and are designed for the environment (e.g. more easily reused and recycled).
Keep products and materials in use longer. Extend the life of products you currently have and repurpose them for other uses. When you're done with them, put them back into the economy elsewhere so they can be used again.
Regenerate natural systems. This is about things like sustainable farming, fishing, timber management, and where possible, regenerating the resources that are taken and used.
Many IT organizations have power saving or cooling strategies that help minimize costs in the environment but, while good and important, they don't go far enough. Here are three simple steps your enterprise can take to begin the journey towards the Circular Economy:
Form a partnership between IT and your Sustainability team. Be a part of your company's sustainability program and create goals that go beyond power reduction; align to principles of the Circular Economy.
Ensure at least 75 percent of your retired IT assets go back "into the circle." Many customers are using a local recycling vendor – but they probably can't tell you what happens to the hardware once it leaves your office. HPE Asset Upcycling Services tracks at the lot, system, and component level from the time assets are picked up at your site through final remarketing or recycling.
Measure your contribution to the Circular Economy by taking advantage of the HPE Financial Services Circular Economy Report. IT can show their direct impact to the overall Circular Economy goals of their enterprise, track the plastics, metals, and other materials that were recovered, and help you translate those numbers into your social and environmental reporting requirements.
WEI Uses Environmentally Friendly Solutions To Reduce Its Carbon Footprint
Outside of HPE's Circular Economy model, WEI has taken the following steps to reduce its carbon footprint.
Carbon Emissions
WEI utilizes small and energy efficient delivery vehicles that are booked and scheduled for geographical delivery routes that reduce miles driven and fuel consumed. These small but full vehicles follow a GPS assisted delivery route that puts their fuel consumption at fifty-percent less than larger trucks dispatched for custom deliveries.
Energy Star
WEI selects Original Equipment Manufacturers that have voluntarily adopted Energy Star standards. These standards help to reduce greenhouse gases through commitment to researching and development in energy use reduction and the adoption of new technologies. WEI also advises and encourages customers regarding the environmental advantages and financial rewards associated with Energy Star utilization.
HVAC Economizers
Cooling the heat created by servers and other hardware makes up no small amount of the power consumed by datacenters. WEI utilizes HVAC economizers, which use smart sensors to determine the air temperature and humidity outside the building and draw it in as needed. Every cubic foot of cool air that can be brought in naturally is one that doesn't require mechanical cooling. This strategy reduces air conditioning needs by as much as 90 percent for eight months out of the year.
LED Lighting
LED lights have an expected lifespan of 60,000 hours – 75 times longer than incandescent lights – while using only a fraction of the power. WEI has transitioned all outdoor lighting to LED and is following a plan to transition 100 percent of all existing and new lighting purchases to LED as well by the end of 2019.
Solar and Wind
WEI's CRS committee has set a goal to explore the use of renewable energy sources such as solar and wind. With a 10KW wind turbine and several hundred square feet of photoelectronic panels, WEI can achieve a carbon footprint of zero during peak hours. With New Hampshire's energy buyback program, WEI will also be able to contribute energy back to the grid during lower consumption periods, reducing the state's fossil fuel consumption and greenhouse gases.
Learn More about WEI's Environmentally Friendly Mission
To learn more about WEI's dedication to being environmentally friendly and other goals and visions, head over to our corporate responsibility page. You can also contact us to learn more about how to join HPE's Circular Economy and take advantage of their pre-owned solutions.