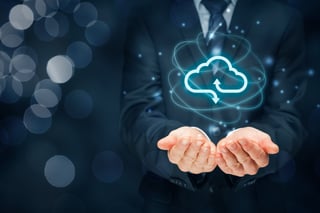 Today, enterprises need to quickly adapt to ever-changing market and consumer demands in order to achieve a successful (and robust) digital transformation. Adopting a hybrid cloud strategy will allow you to meet the evolving expectations of customers and drive your organization further forward.
In this article, we discuss current cloud environment challenges, identify a key solution that meets modern-day demands and expectations, and touch on how the solution supports your organization's strategies for the future.
Modern Cloud Solution Challenges
With organizations attempting to achieve digital transformation in the post-pandemic era, many IT environments currently consist of both cloud-native and legacy assets. This creates additional challenges for IT departments as some workloads aren't appropriate for public cloud and edge-in solutions. In addition, many enterprises need greater space for their assets and want to move away from data center management and the rising costs associated with it.
According to Technology Business Research Inc. (TBR), many enterprises have adopted a holistic infrastructure strategy that unifies on-premises and cloud-based assets. This moves them to an outcomes-focused strategy that enables organizations to rapidly turn raw data into key insights that support larger operational goals.
The Hybrid Cloud Solution
Whether your enterprise is moving to an outcome-focused strategy or prefers a more conservative approach focused on keeping high-security, high-value workloads on-premises, chances are you're seeking a cost-effective as-a-Service consumption model. HPE GreenLake with Equinix provides your enterprise with access to the foundational infrastructure needed to scale and achieve optimal performance, speed, and flexibility. Additionally, HPE GreenLake with Equinix delivers a consistent hybrid cloud experience with hardware infrastructure, adaptable services, APIs, management, and operations – regardless of your enterprise's current cloud maturity.
According to TBR infrastructure and platform customer research, 38% of respondents are optimizing their existing IT infrastructure by integrating and interconnecting it with cloud services. Transitioning from strictly on-premises to a cloud model gives you a significant advantage, as Equinix colocation enables you to modernize workloads and reap the benefits of a cloud experience without upfront investments. HPE with Equinix helps you evaluate your individualized, strategic hybrid cloud road map, and cost management, enabling evolution and transformation that meet your on-demand needs and expectations. Additionally, the solution allows you to build infrastructures adjacent to the clouds and networks you need, thus creating a best-of-breed hybrid cloud architecture.
How You Can Drive Digital Transformation In Your Organization
To achieve digital transformation for your organization, HPE GreenLake with Equinix provides a fully managed option that enables your IT department to move from data to insights quickly, while optimizing overall infrastructure usage to support cost savings and performance improvements. Your enterprise can consume infrastructure in a cloud-like model while driving strategic business outcomes that will allow your IT department to fast-track its digital advantage.
How HPE And Equinix Support A Future-Proof Digital Strategy
HPE GreenLake cloud services provide your team with a powerful foundation to drive digital transformation through an elastic as-a-Service platform that can run on-premises, at the edge, or in a colocation facility.
Equinix enables you to access all the right places, partners, and possibilities you need to accelerate business decisions and growth. Your enterprise can scale with agility, speed the launch of digital services, deliver world-class experiences, and multiply your business's value.
The combination of HPE and Equinix allows your enterprise to future-proof your IT investments by building vendor-neutral architectures that:
Remove data lock-in from an egress cost perspective
Comply with regulations around privacy through in-region data handling
Provide better performance and manageability with proximity to ecosystems and multiple clouds
Ensure secure and private access to their infrastructure with an optimized network design
Provide access to data marketplaces for enhancing enterprise AI models or monetizing corporate data sets
Interested In Cloud Solutions?
With everything IT departments need in cloud-based models, it's important to find the solution that best fits your organization. When it comes to cloud-based options, WEI is a trusted, independent resource to help vet cloud technologies, architectures, and the growing world of service providers. Contact us at WEI to discover which specific cloud method will be most successful for your organization.
Next Steps: WEI can help you ask the right questions to get the right answers in strategizing creative ways to fund your IT transformation. You can start this process by identifying the middle ground between OpEx and CapEx. Download our executive brief for more trusted insight.