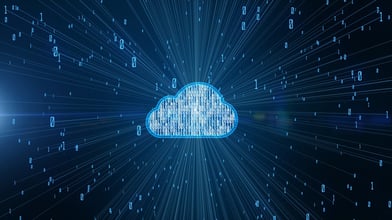 One of the greatest challenges faced by today's enterprises is managing their ever-increasing volumes of data. Over time, the volume, location and importance of data have all evolved, and legacy solutions can no longer keep up.
Enterprises need a solution that can offer the support for not only the volume of data, but also differing file types, data locations, applications, and workloads. To meet this need, Qumulo has built a file data platform that directly fulfills the data-related needs of today's enterprises.
In this two-part series, we are discussing the top 8 reasons Qumulo should be a part of your cloud strategy. Check out part one for the first four ways that Qumulo is helping enterprises manage data.
5. Qumulo is a leader in data storage
Beyond the many customer reviews and testimonials in favor of the solution, Qumulo has also been recognized as a leader for the third year in a row in the Gartner 2020 Magic Quadrant for Distributed File Systems & Object Storage.
According to Gartner, by 2024, "large enterprises will triple their unstructured data stored as file or object storage on-premises, at the edge or in the public cloud, compared to 2020."
For this and many other reasons, it's more important than ever for enterprises to take charge of the way their data is handled, stored, and utilized.
6. Immense return on investment
Data management is often a time and resource sink, with many hours of administration needed from IT to properly secure and store it. For this reason alone, Qumulo brings customers immense ROI just by reducing the amount of time typically needed by IT to administer the data platform.
Because Qumulo is programmable and infinitely scalable, Qumulo lets customers take advantage of technologies like artificial intelligence (AI) and machine learning to move data as needed, making sure your applications and users have access whenever they need it.
Additionally, as Qumulo helps enterprises simplify data management, customers will find that in addition to cost and time savings, the enterprise will be able to better utilize data to direct and improve business objectives.
7. Qumulo provides freedom of choice
When it comes to cloud computing, enterprises rarely utilize just one cloud platform. Qumulo supports this by offering customers the freedom of choice and the ability to choose environments on public cloud, in the data center, or at the edge.
File data can be integrated with any application on Windows, Mac, or Linux, and customers are not locked in with one specific vendor or infrastructure.
8. Qumulo lowers operational costs
In addition to the massive return on investment that Qumulo offers to customers, it also lowers operational costs in general. Data storage costs are lowered as customers use the full capacity of their storage, and there is no penalty for small files. This means that customers utilizing Qumulo in their data center will have more storage and less cost per-rack.
Other cost savings come from reduced staff time for data management and reduced hardware maintenance costs, as well as cost-effective performance supported by AI and machine learning.
Qumulo is revolutionizing data management
When building Qumulo Core, Qumulo zeroed in on exactly what challenges IT professionals face when it comes to data management and set out to address them. With this customer-first approach, Qumulo is changing the data management game and transforming the way enterprises view data.
With the smarter data management provided by Qumulo, enterprises can see in real time what is happening with their data and make better business decisions. Should problems arise, the platform offers the visibility IT teams need to diagnose and fix them, instead of just buying more storage as a stop gap solution.
Are you interested in Qumulo?
As a leader in data management, Qumulo has helped enterprises around the globe manage over 200 billion files. From building smart cars, to vital disease research, enterprises around the world are changing the way they store and utilize data thanks to Qumulo.
This blog post is part of a 2-part series about the benefits of leveraging Qumulo for enterprise data management. If you missed the first post, click here to read part one.
NEXT STEPS: Continue reading about Qumulo in our tech brief below to learn how Qumulo is enabling high performance productivity across distributed enterprises and remote workforces.