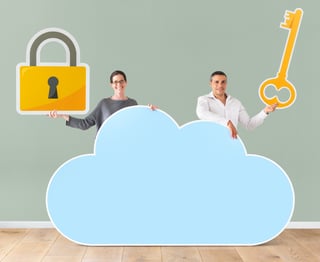 Cloud security is often viewed as a hindrance to productivity and agility, slowing down the ability to develop new applications and processes. However, when adopting a new cloud environment such as Amazon Web Services (AWS), you must balance adequate cloud security with the cloud's elasticity and scalability.
Fortinet Security Fabric provides the ideal components to build an autonomous services hub for AWS designed for various business needs. By concentrating on your cloud security services, your enterprise can protect its data and assets while ensuring consistent security policies across the entire infrastructure.
The Fortinet Security Fabric provides AWS cloud users with various security capabilities from a central location, leveraging a cloud-native ability to automatically scale and replicate services in other regions. Here are six ways Fortinet Security Fabric can provide a balanced and secure cloud environment.
Fortinet For Your AWS Cloud Environment
Next-Generation Firewall (NGFW) access control. With the FortiGate NGFW, you control who can access your enterprise's data and what they are able to view. With a cloud services hub, restrictions can be based on cloud resource tags, IP addresses, TCP services, and application control policies for outgoing and incoming traffic.
VPN cloud connectivity. Secure the data your enterprise shares across resources with the cloud services hub. The cloud services hub can also use FortiGate NGFWs to establish and maintain secure VPN cloud connectivity from branch offices, other data centers, office locations, remote users, or even from organizational VPCs residing in the cloud. This ensures that all traffic is transmitted confidentially over shared resources.
Secure web gateway. With FortiGate you also have the ability to secure web gateways and reduce the risk of malicious communications. By using it as the exit point to the internet, the cloud services hub enforces acceptable internet usage policies for your employees while also reducing suspicious communications.
Web application security. Protect users' personal details such as electronic payments or health information with FortiWeb web application firewall (WAF) as part of your cloud services hub.
Used as the entry point for internet traffic accessing web-based applications, a central set of WAF security policies protects business-critical applications while ensuring compliance with regulatory requirements, such as the Payment Card Industry Data Security Standard (PCI DSS) and the Health Insurance Portability and Accountability Act (HIPAA).
Email security. With Fortinet's FortiMail deployed on demand, you can have peace of mind that you have a backup and secure email gateway (SEG) for your enterprise. FortiMail provides security and flexibility for global email deployments without having to worry about availability.
Sandboxing. Protecting cloud environments from zero-day attacks is growing increasingly important for enterprises. FortiSandbox can integrate with FortiGate to scan any in-line traffic as part of the cloud services hub. It can help protect applications by leveraging the FortiSandbox JSON API. FortiSandbox also has the capability to scale to Amazon S3 cloud storage buckets, via lambda functions. With the available collaboration tools and the increasing use of public file and image repositories, the ability to safely test suspicious code and expose new threats is more relevant than ever.
Using the Fortinet Security Fabric for your enterprise's AWS cloud environment provides you with a balanced solution that combines cloud security with the ability to remain flexible and scale to organizational needs.
Contact WEI today if you're ready to deploy Fortinet for your AWS cloud environment. Our experts will help you determine which services your enterprise needs to maximize cloud security and agility.
Next Steps: Learn more about Fortinet cloud security options by downloading our latest tech brief, "Achieve Digital Acceleration With Adaptive Cloud Security."