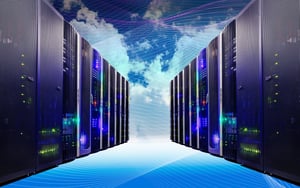 The ability of an enterprise to keep up with changing technology depends on the skills of its IT employees. The pace of innovation can be overwhelming even for the most experienced professionals, but this isn't the only challenge organizations face. As companies understand the importance of digital transformation and take it on within their company, the demand for IT professionals with the required skillsets to transform legacy driven data centers into hybrid infrastructures is skyrocketing. As a result of this move towards hybrid IT, the demand is outpacing supply.
So what hybrid IT skills are important or necessary in order for your team to be successful with this new innovative approach to managing enterprise IT?
6 Necessary Hybrid IT Skills
1. Distributed Architectures
When deploying your hybrid IT strategy, your enterprise network will include numerous cloud service providers along with the existing architecture, which means today's IT professionals need to provide ongoing support for applications, devices, networks and systems regardless of location. With the new applications and the required resources assigned with third party hosting centers, today's IT must also be able to distribute the responsibility and dependency with these third-party teams.
As more people plug into your enterprise, the complexity of the architecture increases as well. It is essential your IT staff understands the relationship between the existing architecture and subsequent cloud architectures you introduced into the IT environment.
2. Monitoring and Management Tools
While your internal IT department is not responsible for the maintenance and support as part of the partnered hybrid IT infrastructures, they are responsible for creating and managing a distributed architecture that incorporates agility and high availability to prevent downtime. This responsibility requires constant monitoring of all components in the hybrid enterprise. Since the traditional monitoring and management tools do not have the scalability to effectively implement on multiple platforms, there is a need for skills to use tools that provide an overview of the on-premises data center and cloud environment.
3. Vendor Management
The role of the Network Manager or Network Administrator is now transitioning to that of the IT Broker. In a hybrid IT environment, the goal is not to just foster a solution from existing infrastructure, but find the optimum solution, no matter where the trail ensues. In most cases, solutions will not be created by internal IT, but brokered through relationships with third party cloud providers. In order to best leverage these relationships and resources, your IT team must understand the technologies being offered to negotiate pricing structures with multiple cloud partners. Being familiar with specific vendors of cloud solutions will be critical in the new-shared responsibility model of hybrid IT.
4. Application Migration
The app is now one of the top tools that companies communicate with their customers and it is the job of IT to find the best environment to host it. This requires a thorough understanding of available cloud product suites and stacks and the ability to move them between different environments.
Issues like changing compliancy requirements and data concerns may require moving different applications between on and off premises environments. Unlike the traditional IT environment where it takes months of planning and prep to move applications, hybrid IT environment employees have the ability to migrate apps promptly and efficiently. Your IT staff needs to have the skills to manage and move your enterprise's apps around when needed.
5. Automation and Software-Defined Infrastructure
IT personnel must learn how to incorporate automation skills and its use in the software-defined infrastructure. Rather than separating the configuration process from the deployment process, provisioning is now an all-inclusive progression of tasks that are performed in a single comprehensive process. This also includes the assignment of security policies so that newly provisioned elements are locked down immediately. Those with developer skills who can automate tasks and processes will prove exceptionally valuable.
6. Cloud Security
Cloud security isn't just about the ability to secure your hybrid IT network. It's also about transparency and compliancy. Your internal IT must ensure that providers practice the proper procedures concerning data handling, change management and internal communications within the cloud service provider's organization. Having a thorough understanding of regulatory compliance is necessary to assign host locations to your company's data and resources.
In order for your enterprise to fully embrace hybrid IT, it's important that your IT staff gains all the skills necessary, including distributing architecture, vendor management and cloud security.
NEXT STEPS: Need help implementing hybrid IT for your enterprise? Read our white paper, Overcoming the Challenges of Implementing a Hybrid IT Model, to get started.