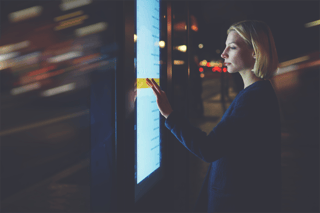 Hybrid IT is many things. It is a new approach to the enterprise that requires new architectures, skills and toolsets. It also brings a whole new verbiage with it. These are terms that your management and staff need to become accustomed to because hybrid IT incorporates a number of new technologies. Many of these concepts are a divergence from the traditional IT structure of which we are all conversant. For those unfamiliar to this new approach to managing enterprise IT, we present to you a glossary of the primary hybrid IT terms.
92% of companies are implementing
some form of hybrid IT.

(Source: IDG Research commissioned by WEI, June 20,2017.)
1. Containers
Containers are the next phase of virtualization. A container encompasses the entire runtime environment for an application including its dependencies, configuration files, libraries, and operating system. When migrating an application you simply move its container from one host to another. This could be from a software programmer's laptop environment to a public cloud production server. Docker is the leading provider of container technologies but other vendors such as Microsoft now offer their own solutions as well. Containers offer unprecedented portability of applications.
2. Converged Infrastructure
In the same way that grocery stores today are offering complete prepared meals for customers that do not have time to do it themselves, converged infrastructure is about pre-configured network packages that utilize referenced architecture. It is a hardware-defined solution that culminates compute, networking, storage, and system administration into a single bundle. These bundles are pretested and certified, allowing the customer to simply unpack the box and deploy it in no time. Those who choose converged infrastructure solutions are willing to sacrifice convenience over choice. These solutions tend to have a shorter time-to-value than integrating custom solutions in a separate package.
3. Hybrid Cloud
There is not just one cloud anymore. There are public clouds offered by a multitude of providers and there is the private cloud, operated and managed on premise. The Hybrid Cloud is a computing infrastructure that incorporates one or more clouds. The most common configuration is the integration of a private and public cloud but it can be an inclusion of multiple public clouds as well.
4. Hybrid IT
Although the Hybrid Cloud is an integral part of Hybrid IT, the two are not the same. Hybrid IT is the culmination of not only public and private clouds and the compute, storage and network infrastructure, but also includes all of the other services that an enterprise provides its customers and users. This can include mobile applications, CRM and ERP solutions and enterprise components that are not conducive to the cloud, such as mainframes and legacy applications. Hybrid IT is about flexibility and agility as companies can host workloads in the public cloud that require limitless scalability, while keeping those resources that require the protection of the firewall for security and compliance reasons.
5. Hyperconverged Infrastructure
Hyperconverged Infrastructure (HCI) takes the concept of converged infrastructure one-step further. Not only are the components of compute, storage, and networking combined into a single package, they are also software defined. While the components of a converged platform can be separated, the components of a HCI environment are tightly integrated in seamless fashion. Because everything is managed by software, capacity can be easily expanded by simply deploying additional modules. The encased HCI nodes form a cluster, which is managed by a hypervisor such as VMware, Hyper-V, or Nutanix. A distributed data plane runs across the cluster nodes, delivering the necessary resources for either VM-hosted or container-based applications.
6. Infrastructure-as-a-Service
Infrastructure-as-a-Service (IaaS) is a type of cloud service model in which the infrastructure components of a data center are hosted in some type of cloud. This includes not only the servers but also the supporting storage, network hardware, and virtualization components. Although IaaS is usually associated with a public cloud environment such as AWS, Azure, or vCloud, it can reside in a private cloud as well. All components within a customer's IaaS environment can be managed through a single pane of glass. The IaaS provider or integrator is responsible for supporting the underlying structure of the virtual layer that the customer can use to deploy and decommission virtual servers, applications, and workloads.
7. Software Defined Networking
Software Defined Networking (SDN) is a network architecture approach in which the network is intelligently controlled by a central authority. This decoupling of the control plane from the data plane allows for fast deployments that incorporate automated configurations and templates. Network traffic and routing decisions are also made by the SDN controller, allowing for automated load balancing and failover tasks. SDN works hand in hand with computer virtualization so that the necessary network infrastructure can be deployed in cohesion with newly deployed servers. SDN also incorporates security policies with the deployment process, locking down network components from the start.
8. Software Defined Storage
In a similar way that virtualization revolutionized the way that enterprises deploy and manage servers, SDS is changing the approach to storage as well. It abstracts storage controllability from the hardware itself so that your storage infrastructure is no longer dependent on proprietary hardware and management services and firmware. SDS uses common x86 architecture and thus works with nearly any storage platform including integrated disks or DAS. Storage pools are provisioned through a hypervisor and managed in automated fashion by software intelligence. SDS puts the server and its corresponding storage on the same control plane and enables the virtual machines to communicate with their assigned file systems through the system bus rather than the iSCSI network. With SDS, enterprises can eliminate the costly solutions of the traditional storage area network (SAN).
9. Storage Spaces Direct
Storage Spaces Direct (S2D) is a new feature of Microsoft Server 2016 (Enterprise Version) that builds upon Storage Spaces that was introduced with Server 2012. S2D incorporates software defined storage and will support up to 416 disks and shares out storage using the SMB 3.0 protocol. It will work with both integrated storage as well as a shelf of disks, also known as JBOD (just a bunch of disks). It automatically detects tiered storage architectures that incorporate both SSDs and HDDs and will dynamically cache to the fastest storage. S2D works hand in hand with Hyper-V and is designed to work with both converged and hyperconverged environments.
10. Technology Stack
A technology stack is a set of technologies, software, and tools that that together compose a complete solution platform for running a service or application. It is not a new term per se, as a traditional client computer has a technology stack that includes the operating system and all of its support services and runtime environments. Technology stacks apply to virtual computers as well as applications as a technology stack can include an entire virtual environment as well as a single container that hosts an application and all of its supporting components. Today's technology stacks allow for easy migration of applications from one hosting platform to another.
Next Steps: Now that you know the primary vocabulary surrounding Hybrid IT, take your knowledge and IT efforts to the next level by downloading our white paper, "An Introduction to the New IT Approach Called Hybrid IT."