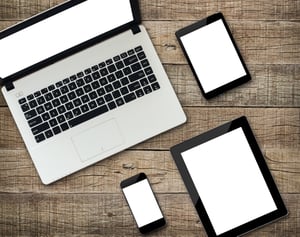 While today's IT environments are growing more and more complex, seemingly by the day, the process for supporting Apple devices is growing easier as well. Previously on the WEI blog we've talked about the undeniable benefits of integrating Apple devices into your enterprise. Below we dig into 5 reasons IT leaders are offering Apple as a choice in their enterprise for an awesome end user experience.
1. Employee-Focused Experience
Traditionally, enterprise IT has dictated technology choices – devices were preselected and ordered in bulk, stored until an employee needed them and then distributed all at once. The alternative of allowing a bring-your-own-device (BYOD) program was an unappealing mess of having to manage different versions of software and hardware and keep everything secure.
Today, a better alternative is allowing employees to meet their own unique technology requirements (within reason) on the company's dime. By supporting Apple products and implementing choice for both iOS and macOS, IT empowers everyone to use what works for them, while also maintaining corporate standards.
2. Flexible Financial Models
In the past, the lower price point of PC's often caused decision makers to consider the financials first when looking at technology. Unfortunately, many were also met with unreliable hardware and increasing support costs as a result.
Apple, on the other hand, designs hardware and software together, making their products extremely reliable. Combine that with newer leasing and financial models, like device-as-a-service, and more companies can now take advantage of Apple products while minimizing up-front costs.
3. Modern Provisioning And Deployment
Did you know Apple products can be distributed with zero-touch deployment? IT can configure and manage policies and applications over the air with control over each device, and without affecting how users want to work. Employees can unbox their devices and personalize them right away, instilling a sense of ownership and care over the device's lifetime.
This model is possible thanks to Apple's mobile device management (MDM) framework, the Device Enrollment Program (DEP), and third-party MDM solutions. With these services in place, a macOS or iOS device can be set up automatically without any interaction with IT, and be easily maintained and kept compliant with corporate policies.
4. Personalized Setup And App Environment
Instead of a long list of restrictions, progressive corporations are allowing employees to personalize their Apple devices. When employees have the option of installing recommended and personal productivity apps on their own, productivity increases.
Combine that with the underlying iOS and macOS security architecture, and personal and work data can coexist on a device as needed, while still remaining separate. While not everything may jive with your corporate policy on what can be stored in iCloud, transparency on these policies helps employees to better understand how to protect corporate data and avoid accidental breaches.
5. Shared Responsibility For Support
When an employee isn't allowed to pick out or set up their own device, they're more likely to contact the IT help desk when issues are encountered. On the other hand, employees love Apple products because they're more likely to already be familiar with them, and able to do their own troubleshooting.
Combine this self-support ability with a help desk integrated with AppleCare, and you have a user-centric support system that encourages employees to investigate issues themselves before using IT time and resources. Ultimately, this results in less downtime and reduced IT costs.
Leverage WEI's Expertise To Accelerate The Digital Workplace With Apple

The growing popularity of Apple in the work environment has IT professionals increasingly investigating the right way to deploy these devices within the enterprise, and as an Apple authorized reseller, that's where WEI can help.
As trusted experts in managing Apple devices in the enterprise, we recognize there are several challenges that IT teams face when trying to standardize Apple in their environment. Not because it is hard or overly complex, but because it is different from traditional methods, and different from what most IT teams are familiar with.
[VIDEO] Real Tech with WEI - Exploring Apple in the Enterprise
WEI can help you quickly and efficiently integrate Apple into your enterprise with full lifecycle support, so you can deliver the new digital workplace experience your users have come to expect.
WEI's Apple experience and expertise combined with value added services will:
Help you cut through noise during the research process
Limit implementation and operational expenses
Enable your teams to manage the Apple environment more efficiently
Help you deliver a thrilling Apple experience that empowers your users
To learn more about how we've helped countless enterprise IT teams implement a unified architecture for deploying and managing Apple in the enterprise, learn about our Apple practice and contact us today.