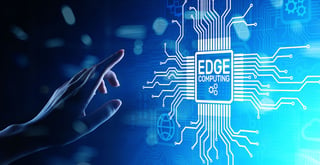 Even as we conquer one technology and discover all the different ways we can bend it to our will, another comes along and the cycle begins anew. For today's enterprises edge computing represents a great leap forward in data processing.
In this article, we'll offer a high-level overview of the edge, explain why your enterprise should take advantage of the benefits of edge computing, and three tips to help you get your edge strategy started.
What Is Edge Computing?
Understanding exactly what the edge encompasses is the first step to devising your own edge strategy. That said, the definition of edge computing is a bit nebulous, with organizations often defining exactly what constitutes as 'the edge' based on their own computing environments and their specific organizations.
That said, the fundamental principle of edge computing remains the same: Bringing computation and data storage closer to the sources of data, which is turns speeds up processing time and improves data-related productivity.
In a recent report commissioned by Dell, the technology was described as:
"'Edge computing' is a term that encompasses a broad array of execution venues, including devices and equipment with embedded compute, adjacent computing devices that augment compute-constrained endpoints, gateways to legacy equipment, and proximate compute resources in closets, cages and within the network operator infrastructure. Edge computing also includes hyperconverged infrastructure that integrates and virtualizes key components of IT infrastructure including storage, networking and compute."
The bottom line is that while the exact definition and application of the edge can differ, enterprises are all searching for the same things when they utilize it: increased agility, productivity, and a reduction in the time spent processing data before it can be properly utilized.
Why Your Enterprise Needs To Embrace Edge Computing
Now that we've explained what the edge is, let's delve into why enterprises are so keen on employing their own edge strategies.
Some of the motivation can be attributed to seeking a competitive advantage, the same reason any new technology is adopted once it's been proven to be effective.
Other reasons enterprises are seeking out edge computing are the specific benefits offered by the edge.
As shared by Dell, these benefits include:
Reduced latency – Through edge computing, the latency inherent to physical distance can be overcome.
Bandwidth conservation – The locations that need the edge the most often have limited WAN bandwidth. By processing data locally, enterprises can extract the maximum business value from it.
Operational technology (OT) connectivity – Enterprises in some industries require specific compute devices in order to acquire data and pass control information. Edge computing can help support the needs of these businesses.
Business process availability – Critical tasks undertaken at the edge need to be able to continue even during network outages or other crisis situations. Edge computing can ensure that these locations, whether a factory, retail location, or hospital, can continue to operate even during outages.
Data sovereignty – Depending on the industry and location, the movement of some types of data may be restricted. Edge computing can help enterprises overcome these restrictions and still leverage the data produced.
3 Tips for Building Your Edge Computing Strategy
Once it's decided that an enterprise should move forward in adopting an edge strategy, the next step to plot the path forward. Like any other technology, adopting it without a proper plan in place can reduce the technology's effectiveness in the long-term. So, what do enterprises need to keep in mind for their edge strategy?
Plan your strategy around your specific business goals. Every enterprise is different and edge strategies are not one size fits all. Keep your specific targeted business outcomes in mind when designing your strategy and you can ensure that your edge strategy will drive your business forward.
Be efficient when designing your infrastructure. The edge is all about consolidating and looking for opportunities to save on resources to improve agility and productivity. By integrating your data streams, your edge infrastructure can also take advantage of the existing edge data.
Keep the future in mind. Your edge strategy shouldn't just be planned for the here and now, it should also take the future into consideration. Consider what the growth of your enterprise will mean for your edge strategy and plan accordingly. Planning now will pay dividends down the line.
Do You Need Help on Your Journey to the Edge?
Dell is committed to helping enterprises transform the way they do business. To support this, Dell offers a broad range of edge solutions applicable for a variety of industries and that can meet the unique requirements of your enterprise. The best part? You can leverage WEI's expertise across Dell's portfolio of infrastructure solutions to help determine the best solution for your business. WEI is here to help set you up for success with your edge computing strategy.
NEXT STEPS: Adoption of hyperconverged infrastructure solutions are on the rise as more and more enterprise businesses see the benefits first hand. Check out our tech brief below that features several of the reasons our customers choose VxRail for HCI. (No forms required!)