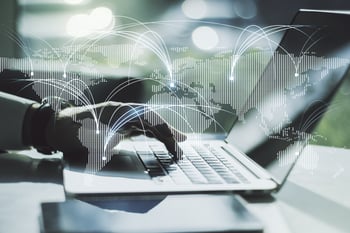 For your modern IT organization to be successful, you need to be more visible, expedite service delivery, and place more emphasis on enabling the business to extract value from data.
In this article we discuss the modern-day challenges IT organizations face and how HPE GreenLake with Nutanix can provide three key solutions.
Modern Enterprise Challenges
There is a disconnect between business objectives and business demands when it comes to IT organizations. According to ESG research, "nearly nine in ten organizations expect to run 50% or more of their workloads on-premises." IT departments, however, are held to a different standard: the hybrid cloud infrastructure.
Does your IT department find itself spending too much time managing individual infrastructure components due to two systems you have to manage (on-premises and hybrid cloud)? With the lack of IT resources, this fuels the growing adoption of cloud services, and the high number of additional workloads stretches your IT departments too thin. On top of that there has been a limited amount of talent or budget to support your IT department which affects the scalability of an organization to meet the myriad of demands.
How HPE And Nutanix Meet Business Expectations
Modern organizations need to implement a cloud-like, consumption-based model for their IT departments. This is where HPE GreenLake and Nutanix Enterprise Cloud come into play for your business.
HPE GreenLake is a fully managed, scalable IT infrastructure service offering a cloud-like consumption model for on-premises infrastructures. Your organization can choose the most appropriate services based on your needs and have the option to pay as you go. HPE GreenLake is easily scaled with the added advantage of an onsite buffer when extra capacity is needed.
Nutanix Enterprise Cloud delivers a complete IT infrastructure with the agility, scalability, and simplicity of the cloud, and the security, performance, and cost predictability of traditional on-premises infrastructures. It satisfies application workloads from end-user computing environments with VDI to mission-critical database applications that serve as the backbone of the business.
HPE GreenLake With Nutanix: 3 Key Solutions
Thankfully, your organization doesn't have to choose between the two services as HPE and Nutanix have collaborated to better support customers. HPE GreenLake with Nutanix concentrates on three key solutions to address modern IT organization challenges:
1. End-User Computing Infrastructure: As an end-user, computing infrastructure releases your IT personnel from routine, labor-intensive tasks to instead work on value-added initiatives by providing you faster and easier deployment and management to your VDI and DaaS infrastructures. This enables your IT department to supply users with the applications they need with strengthened security.
2. Database Infrastructure: The database infrastructure consolidates disparate workloads into one efficient management platform by streamlining your database deployment, management, and operations. Your organization can rapidly provision, clone, patch, refresh, and perform backups, while the pay-as-you-go model drastically reduces expenses by eliminating upfront capital expenditures.
3. Private Cloud Infrastructure: Private cloud infrastructure provides IT organizations the ability to reliably deliver applications and data at any scale and provision, update, and perform disaster recovery with one click. It allows your organization to support business-critical workloads by bringing together the agility of on-premise with the security and flexibility of a private cloud.
For your modern IT organizations to thrive, you must embrace an as-a-service delivery model. HPE GreenLake with Nutanix supports your IT department in their journey to better align resources to your specific lines of business and has a wide variety of applications and infrastructure demands.
Interested In HPE and Nutanix's Solutions?
To keep up with the demands of the digital world, enterprises must prioritize efficiency as the key focal point of their IT modernization strategy. HPE GreenLake with Nutanix enables your enterprise IT department to use the tools you need to be successful on your own terms. The strategic partnership between HPE and Nutanix has paved the way for improved operational efficiency, agility, and customer-centricity. If you're ready to make the change now, contact WEI to find out how you can successfully implement HPE and Nutanix solutions to improve your organization's end-user computing, database, or private cloud infrastructures.