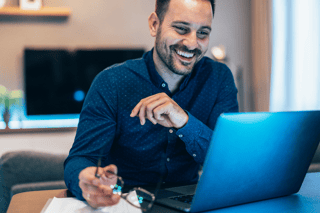 The number of remote workers rose dramatically during the pandemic and has steadily increased since. In fact, 57% of organizations report more than half of their workforce works remotely at least two days a week. This changes the way enterprises utilize their networks to best support users and devices connected from remote locations. Networks play a critical role in helping companies communicate and connect. This is why IT teams are changing the way they think about networking to help embrace the constant changes in security and performance. IT departments can ensure employee experience is simple and consistent with advanced remote workforce solutions.
The Challenges Of Remote Work
A majority of companies had to make an unplanned and quick transition to allow their workforce to operate from home. Only miniscule six percent of employees worked from home before the pandemic and almost three-quarters never worked remotely. Now that remote workers have increased unexpectedly, many organizations are experiencing a rise in cyberattacks due to a dispersed workforce that creates system and network vulnerabilities. In turn, this shift has created network architecture and support challenges for IT teams.
Organizations are also at an increased risk because workers require secure access to data from anywhere using cloud applications. Employee productivity also depends on the ability to stay secure, the quality of network speed, and the reliability of their network connections. This is why new remote workforce solutions, such as EdgeConnect Microbranch from Aruba Networks, are evolving to combine enterprise-grade wireless solutions with SD-WAN (software-defined wide area network). SD-WAN improves the performance and user experience in branches and on campuses and now it can do the same for the remote workforce.
SD-WAN Solutions For Home Workers
To address the challenges enterprises face while they implement and expand remote work, Aruba Networks has introduced EdgeConnect Microbranch. It has been designed to simplify the complexity of remote work networking for businesses. This solution has also enhanced security and unified management to meet the critical needs of any business.
Aruba Networks explains, "IT can remotely deploy and centrally manage secure network connectivity for hundreds or even thousands of remote workers or small office employees to deliver an in-office experience using Aruba Central and any Aruba access point – without need for a gateway." This advanced remote network solution has added SD-WAN capabilities that help deliver better-performing connectivity from the edge to the data center to the cloud. EdgeConnect Microbranch has been offered as part of Aruba's new bundle called Edge Services Platform (ESP), which helps provide a remote office experience through remote access points (RAPs).
These SD-WAN capabilities include policy-based routing, tunnel and route orchestration, SASE (secure access service edge) integration, and enhanced WAN visibility. These added functions are designed to allow companies to mimic and offer an extensive range of in-office and campus connectivity services to remote workers with no gateway or new hardware required. This facilitates the objective of increasing productivity and security.
The Benefits Of EdgeConnect Microbranch
Aruba's Edgeconnect Microbranch improves remote workforce solutions with its new SD-WAN features. Here are some noteworthy benefits:
Cloud-managed Wi-Fi

: Any Aruba Access Point (AP) can be used to provide dependable, high-performing connectivity to offer the same experience and security whether employees are at home or in the office.

Intelligence policy-based routing

: This automates how traffic should be routed to endpoints based on rules for specific applications to enhance performance and security.

Automated route and tunnel orchestration

: APs can organize VPN tunnels on demand and reroute traffic as needed.

SASE and Zero Trust

: This applies policy-based routing to orchestrate tunnels and direct certain remote user traffic for cloud security inspection to extend SASE and Zero Trust architecture to home offices.

WAN health troubleshooting

: Dashboard views provide near real-time updates on WAN availability and utilization that can help accelerate problem resolution.

Access to in-office resources

: Workers can plug VoIP phones or wired printers directly into the AP to have secure access to on-campus resources using corporate SSIDs.
Conclusion
Overall, new remote workforce solutions such as EdgeConnect Microbranch can better support remote work. These solutions also help IT ensure secure and reliable access for remote workforces by extending WAN and providing employees with an efficient in-office experience.
IT teams can also manage environments with more ease with cloud-based network management and Zero Touch Provisioning. This helps IT monitor remote locations and troubleshoot issues in real-time while overseeing network utilization, latency, and other connectivity issues.
If you are one of many businesses that have adopted remote or hybrid work, contact WEI today to learn more about remote workforce solutions to enhance home office environments.
NEXT STEPS: SD-WAN is ideal for campus-based networks or distributed enterprises, or any enterprise with remote/branch offices. Explore the top three benefits of SD-WAN in our short video below.