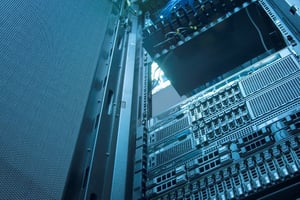 Campus network expansion and increased demand for mobility have generated the need for a simple, effective LAN deployment and management solution. Users demand the same network experience both on and offsite and across all devices. So far, network architectures have been largely unable to meet this goal. The current IEEE 802.1BR standard simplifies switch deployment, maintenance, and management. However, this design fails to incorporate some features that are critical for a uniform experience. Aruba has addressed these issues and created a comprehensive network solution. The Aruba Mobile First campus architecture provides a streamlined infrastructure and management platform that solves the modern network challenges.
Beyond the Standard
An efficient network infrastructure should be simple and streamlined without sacrificing scalability and reliability. Aruba's Mobile First solution achieves this by improving on the 802.1BR standard. The 802.1BR standard uses a central controlling bridge with layers of external bridge port extenders. While the 802.1BR standard simplifies network infrastructure, it fails to allow for:
Resiliency and scalability through link aggregation

Bridge port extender stacking

PoE management through the controller bridge

Controlling bridge aggregation for full redundancy

Centralized firmware management

Device flexibility and freedom of choice
Aruba has created a comprehensive solution that addresses these needs and more. Their Mobile First campus architecture offers simplified network management and operations while providing scalability, flexibility, and true mobility.
A Streamlined Network Infrastructure
Campus network infrastructures generally consist of multiple access switches that connect to a pair of central aggregation switches. The aggregation switches are then connected to a campus-wide network core. Both the core and aggregation switches are typically deployed in identical pairs for full redundancy. This practice also eliminates single points of failure. However, the use of dual switches can create the issue of network loops. Solutions designed to prevent loops often negatively impact network efficiency and increase complexity.
Aruba has both simplified the network architecture and eliminated loops through Virtual Switching Framework (VSF) technology. With VSF, dual switches can be combined into a single network node. Both devices in the set use the same IP address, while each VLAN uses one shared IP address. VSF also allows switch stacking in the access layer, to increase resiliency and reduce port requirements. Just one control plane and one management plane can be used for the full stack.
Unified Policy Management and Control
Aruba's ClearPass Policy Manager unifies policy control for both wired and wireless users. Administrators can define and manage network-wide access policies through ClearPass. Policies are enforced with access switches, mobility controllers, and instant AP's. ClearPass also offers integrated solutions for device profiling, guest management, and third-party mobile device management. Additionally, per-port tunneled node technology enables greater network security. Administrators can create GRE tunnels to redirect select traffic to the controller. The controller's embedded firewall then enforces security policies and better protects sensitive devices. Tunneled node technology can also be used to create granular visibility of network traffic.
Centralized and Automated Operations
Aruba offers two different software-based solutions for network management. Their AirWave option is deployed at the data center or another on-premise location. Aruba also provides a public cloud network management solution called Central. Despite operating on different platforms, these solutions simplify network management through the same means:
Automated switch registration and configuration

Standardized and consistent device configuration

Automated firmware management and upgrades

Automated maintenance and operations



Increased Flexibility and Freedom of Choice
Aruba's software-defined management platforms give network designers greater flexibility. The 802.1BR standard often creates a situation where network designers are limited to compatible hardware from a single vendor or product line. Aruba's solution prevents this product lock-in and offers freedom of choice. Administrators can utilize the best device in every situation rather than being limited to a particular brand or vendor.
The Aruba Mobile First campus architecture is a comprehensive solution that meets modern network needs. Mobile First provides a streamlined infrastructure and simplified network management and operations. Aruba's architecture uses VSF to eliminate loops and ensure resiliency and reliability while their integrated ClearPass Policy Manager improves security and provides unified policy control. Both their on-premise and cloud management platforms offer simple, automated network management. Overall, Aruba's Mobile First architecture is an efficient, highly scalable solution for true network mobility.
NEXT STEPS: Learn more about the challenges of supporting today's mobile environments in the enterprise by reading our tech brief.