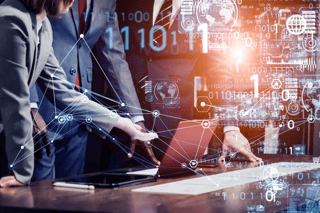 Enterprises are currently reinventing how they operate with digital transformation. They're capitalizing on a variety of cloud-based technologies and launching products and services to customers more quickly than ever before. As more businesses update their infrastructures, traditional enterprise networks are struggling to keep up with the changes. A recent networking global survey found that 97% of organizations will have difficulty keeping pace with the changing demands of the cloud and hybrid networks. As businesses continue to update their infrastructures, many are using software-defined wide area networks (SD-WAN) to move forward in their digital transformation journey.
The Benefits Of Digital Transformation With SD-WAN
Increasing network bandwidth on a traditional WAN (which wasn't designed for the cloud) can be expensive and time-consuming. However, SD-WAN can deliver the agility and flexibility needed to support digital transformation. Aruba Networks explains, "Unlike the traditional router-centric WAN architecture, the SD-WAN model is designed to fully support applications hosted in on-premises data centers, public or private clouds, and SaaS services while delivering the highest levels of application performance."
When SD-WAN is deployed correctly, it allows the network to adapt to shifting IT requirements. This low-cost way to enhance the capacity and flexibility of enterprise networks has three primary benefits:
Better-performing services: SD-WAN helps establish fast and reliable connectivity for next-gen services while also supporting digital technologies that assist in business productivity. Generally, it improves the ability of organizations to better monitor application performance and end-user experience.

Uptime and availability: Many business processes rely on uptime and availability in their networks. Luckily, SD-WAN accumulates several connections at each site from multiple ISPs to make sure the network continues to function properly.

A digital-first mindset: Using a software-driven virtual network is a fantastic way to make digital transformation the norm for organizations. SD-WAN brings more visibility to enterprise networks and can help forge the way for the implementation of more digital technologies and innovative ideas to better operate businesses.
The benefits of SD-WAN not only help enterprises keep up with digital transformation changes, but also improves overall network performance. This platform can ensure excellent performance across all cloud-connected networks, ultimately paving the way for companies to make the most of their available bandwidth.
Why SD-WAN Is The Preferred Platform
Those looking to shift toward an enterprise-first networking model should consider Aruba EdgeConnect Enterprise SD-WAN. The platform is designed to help organizations fully understand the benefits of digital transformation within the cloud. Aruba EdgeConnect Enterprise supports customers with these four unique areas of business values:
Business-Driven SD-WAN
With this platform, customers can build a unified WAN edge that ensures business priorities are always manifested in how the network delivers applications to users. The business-driven aspect drives the way network resources are applied to fit the business cruciality of every application. Once virtual WAN overlays based on business requirements have been defined by Aruba Orchestrator, configurations are directed to all sites across the network, and traffic handling is completely automated. Aruba EdgeConnect Enterprise will constantly learn and adapt to any network changes and traffic handling.
Highest Quality Of Experience
Both end-users and IT teams can enjoy the highest quality of experience with Aruba's SD-WAN platform. With consistency in application performance and the optional WAN optimization performance pack, Aruba EdgeConnect Enterprise will enable IT teams to keep users satisfied and productive. Some examples include high-quality voice and video across services and cost-effective consumer broadband services. Human errors are minimized with centralized orchestration, so IT teams can focus on the business and troubleshoot faster.
Continuous Adaptation
This SD-WAN edge platform also utilizes automated real-time responses to eliminate the impact of blackouts and brownouts. Through continuous monitoring and analytics, Aruba EdgeConnect Enterprise can detect any changes to the network and initiate immediate adjustments that may be necessary. A huge benefit of Aruba's adaptive internet breakout is how users can stay connected to any application without manual intervention from IT.
Unified Platform
Aruba's platform unifies SD-WAN, firewall, segmentation, routing, WAN optimization, and application visibility and control into one centrally managed platform. This is what makes Aruba EdgeConnect Enterprise stand out from the competition. Through service chaining ecosystem partners, Aruba allows organizations to leverage existing investments including industry-leading security.
Conclusion
SD-WAN has the potential to deliver the necessary modifications that enterprise networks need in order to keep up with customer-driven digital transformation. This low-cost platform delivers flexibility, agility, and high performance all through cloud-delivered applications. SD-WAN creates more effective networking solutions that can help accelerate the growth of any organization. If your enterprise would like to learn more about SD-WAN and how to meet the developing demands of digital transformation, contact WEI today to get started.
Next Steps: SD-WAN is ideal for campus-based networks or distributed enterprises, or any enterprise with remote/branch offices. Explore the top three benefits of SD-WAN in our short video below.