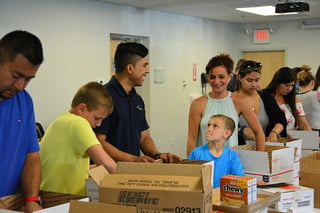 At WEI, we're not just an award-winning technology services provider focusing on helping our customers drive business value; we're also a company that cares for the health, happiness, and wellbeing of our employees, our environment, and the community around us. We do this through our community outreach and corporate responsibility initiative: WEI Steps UP. Earlier this year we worked with Habitat for Humanity and we are excited to announce that this past June 15th we held our second annual Care Pack Family BBQ, which aimed to benefit our military men and women serving overseas with the help of the Pease Greeters organization.
Supporting Our Troops through the Pease Greeters
The Pease Greeters are a generous group of patriotic Americans who welcome men and women in our Armed Forces who pass through Pease International Airport in Portsmouth, New Hampshire, either on their way home from or to Afghanistan, Iraq, or any other area of conflict. The organization's members have met at least 600 incoming and outgoing flights and have welcomed home more than 1,700,000 troops since they started the organization in 2005. The Pease Greeters' mission serves to:
Welcome troops and bid them a safe voyage during their travels with the Armed Forces
Create an environment within the Pease Trade Port that reflects the respect and high esteem in which Americans hold all of our nation's veterans
Encourage the general public and promote broad participation in the welcoming of heroes
Educate school children about America's Armed Forces by instilling respect and admiration for the troops through formal ceremonies
According to the Pease Greeters, it does not matter whether they are at the airport at 0400 (4AM) in the morning or 1600 (4PM) in the afternoon, the greeters are always there to welcome the troops. The Greeters' welcome incorporates the initial greeting, which includes hundreds of Greeters clapping and cheering while patriotic music plays in the background, celebrating the brave men and women of our nation. Additionally, everyone is invited to join the Greeters; they have a schedule on their website where volunteers can see when flights are coming in to help them plan their visit.
Second Annual Care Pack Family BBQ

The WEI Team is always happy to find ways we can involve our employees and their families in company-sponsored events, and this year's Second Annual Care Pack for Soldiers Family BBQ was no exception! The fun-filled event was held Thursday, June 15, from 3:30pm-6pm, and to join in on the excitement, we invited JoAnne and Wendy from Pease Greeters to the WEI corporate office to assist with building this year's care packages.
In honor of our troops' selfless contributions to our country, the WEI team created small tokens of appreciation. We created two different types of packages to send overseas – a hygiene box and a snack/activity box. In the boxes, we included toothpaste, mouthwash, deodorant, sunscreen, Chap Stick, peanut butter, crackers, playing cards, DVDs, magazines, and other comforts of home.
We also included handmade thank you cards from the WEI kids and families. Before we packed the boxes, we invited the children to create 100 cards, decorated with patriotic colors, thanking the troops for their service. After all this, we had a delicious BBQ dinner catered by Gabi's Smoke Shack out of Londonderry, NH, and relaxed with great conversations, games, face painting, and outdoor activities for the kids.
The Second Annual Care Pack Family BBQ was a very successful event and it was fantastic to see the WEI Family come together for such a great cause. We'll definitely be continuing the tradition year after year. To learn more about the Pease Greeters, visit their website.
For more information about our community outreach efforts, follow the hashtag #WEIStepsUP on Facebook, Linkedin, and Twitter, and click below to visit our WEI StepsUp page today.